Segment 10  -  Ottawa to Quebec City, Quebec
Ottawa, our nation's Capital, what a great location for a rest day!  Many of our group of cyclists took advantage of the sites and sights common in the area including the Rideau Canal, which bisects the city, Parliament Hill, the plethora of museums, and the ample choice of restaurants.  Of course, R&R and laundry were high on the "to do" list.  We also made use of the wifi to correspond with family and to catch up on news in the real world.  I made use of the down time to advance my blog, a time-consuming endeavour.  For supper, Joyce and I took transit to the Byward Market to enjoy a meal at Tucker's Marketplace, a favorite.  The bus ride increased the overall cost of our meal, but our gluttony made up for it.  Coincidentally, we happened to meet fellow rider, Greig, at Tucker's to enjoy the meal with him.
Our country is blessed with great scenery, Ottawa being a good example.  10 August, the day after our rest day, well fed at the all-you-can-eat breakfast at Carlton U., it was a cool, brisk morning into which Greig, Joyce and I departed along the picturesque Rideau Canal into town.  Continuing along Sussex Drive, we passed embassies, 24 Sussex, the GG's residence, and Rideau Falls.
Now, we were perched on high ground as we rode with a great view of the Ottawa River.  With a couple hours in the saddle, we returned to river level simultaneously with others just in time for passage on the ferry across the Ottawa River to Quebec, our sixth province on this memorable tour across Canada.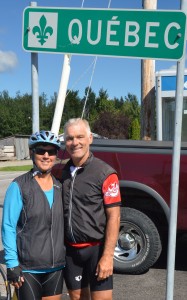 Joyce and I found ourselves alone once we re-commenced riding.  A clear, 25*C day, good pavement, and favorable winds made for good riding, interrupted only by quick drink and food breaks.  Close to 3:00 pm., we were on the Carillon ferry.  The seven minute ride returned us to the south side of the Ottawa River.  Forty minutes later, our bikes made a sudden left turn.  To our surprise, we were at the Dairy Queen in Rigaud.  Since we were there, we indulged.  An hour's enjoyable riding was all that remained of our 164k day into Camp Daoust in Hudson.  Unusual, but Joyce and I were the fourth and fifth riders into camp this day.  Our 4:55 pm. arrival allowed us to set up camp and shower, particularly since the majority of the riders had yet to arrive, before focussing on our duties as cook crew.
Even with our breakfast duty on 11 August, we managed to leave by 7:35 am. with several others to navigate our way into Montreal.  It was slow going to follow the directions through the 'burbs, across bridges, then along bike paths.  The mighty St. Lawrence was seldom far from sight.  Due to different interests, our large group split in two.  Our group of seven were soon in downtown Montreal, patronizing a restaurant for lunch.
Alain, familiar with Montreal, led us through the city and across the high Cartier Bridge.  Tricky  directions on our daily cue sheet made for slow going.  Once in the day's destination of St. Hillaire about 4 o'clock, our group decided that a Tim Hortons' break was a just reward.  An hour later, we arrived at our camp for the night.
Departing camp early, at 7:13 am., initially, Joyce and I backtracked to cross, then follow, the north side of the Richelieu River.  The route was picturesque on this sunny day.  It's not hard to know where the next town is located on the horizon.  The Roman Catholic Church spires are good giveaways.  Thankfully, traffic was light since there were no shoulders and the pavement was deplorable, a common Canadian affliction, it seems.  A couple breaks are all that saved us from the denture-detaching Route 223.  About 11:00 o'clock, in Sorel, we met up with many of our cycling colleagues to ferry across the St. Lawrence to Berthierville.
Joyce and I split from the group 10k later to stay on Route 138.  The proposed route would have taken us along a dusty, gravel road with a storm threatening in the distance.  No thanks!  Eventually, we all ended up passing through Louisville where many stopped, again at the local TH.
I had been monitoring the sinister skies to the north for some time.  As we rounded a curve on our route, a wall of heavy rain was fast approaching.  Our brakes worked well.  We scurried to don our rain coats and move into a red pine forest for refuge.  Slightly wet from the short shower, we joined others at a corner stand for an ice cream cone.  My French was not up to the task as two French Canadians, Michel and Alain, in our group helped with ordering.   A short time later, we arrived at our campsight, Lac St. Michel, a nice spot close to Trois Rivieres.
Bad news started off the next day, Tuesday, 13 August.  Joyce learned that her brother succumbed to ALS the previous night.  Joe was interested in Joyce's progress, and Joyce was interested in finishing for Joe.  Joyce's hope was that she'd be able to give Joe the good news, personally, in two week's time.
English Mike and I would ride without Joyce today.  Not in a biking mood, Joyce got a lift to our next destination, Quebec City.  The rain, which had started about 4:00 am., stopped long enough for us to eat and break camp, but started again to accompany us for the first 40k.  The remaining 108k of the day were under cloudy skies.  The ride was tough with headwinds into Quebec City.  A smiling Joyce greeted us at the front door of the residence to direct us to our rooms.  Our rest day break started off well with a shower and meal of pizza, quite the treat.
Unlike Lakehead and Carleton, where the group ate well and had spacious rooms in quiet sections of the residence to ourselves, Laval's residence rooms were snug, the halls alive with undisciplined, poorly chaperoned "yutes".  Any fitness we might have lost during our rest day was amply maintained with our marathon walks to the washroom.  Our meals in the cafeteria were gulag in nature.  Food items for our tickets were strictly counted with the price for extras excessive.    A trip into the Old Town punctuated a rest day of the usual blog, laundry, and relaxation responsibilities.
Segment  Table 10  – Ottawa, Ontario to Quebec City, Quebec
| | | | | | | |
| --- | --- | --- | --- | --- | --- | --- |
| Location  /  Date | Time camp to camp | Time on bike | Max. speed | Avg. speed | Distance | Trip to date |
| Hudson, PQ / 10Aug13 | 9:10 | 7:28 | 48.9 | 21.9 | 164.2 | 5049.2 |
| Mt. St. Hillaire / 11Aug | 9:30 | 6:14 | 42.6 | 17.9 | 111.6 | 5160.8 |
| Trois Rivieres / 12Aug | 8:49 | 6:13 | 44.4 | 21.0 | 130.6 | 5291.4 |
| Quebec City / 13Aug | 10:09 | 8:12 | 40.2 | 17.6 | 144.8 | 5436.2 |