It's tough to roll out of the sack after a relaxing, rest day when you're cozy and comfortable, savouring a real bed.  What added to the difficulty was the thought that immediately into the ride we'd be heading uphill.  But, our day would include riding through an area which is a favourite of mine, an area which includes the Kicking Horse Pass, the Spiral Tunnels, Emerald Lake, and Field in beautiful Yoho National Park among other scenic spots.
After enjoying good service and a good breakfast, we slowly and reluctantly left the comfort of our B&B of the last two nights.  Our ride began with an incline, which would take us over a fantastic stretch of highway having been reconstructed and re-routed in the past ten years.  It offers good riding and great vistas.  The hills, aside from going up, were gradual, presenting easier, more consistent pedalling.  At the top of this hill, a prelude to the Kicking Horse Pass, was a perfect "Kodak moment", a group shot of those who ascended the hill with us.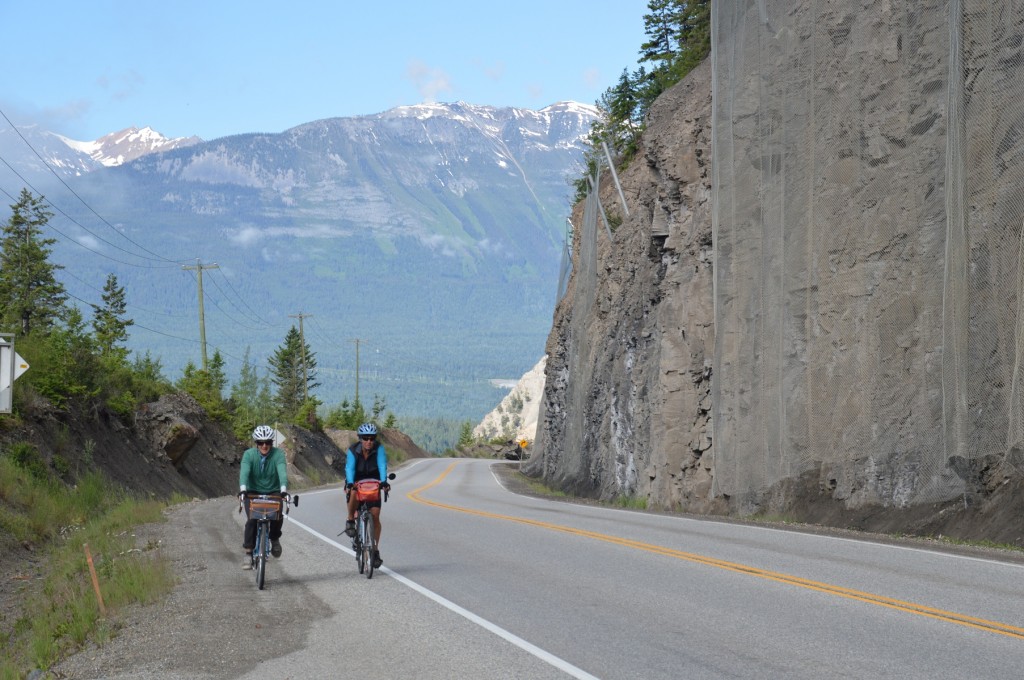 pictured above:  Bill and Joyce ascending above Golden in background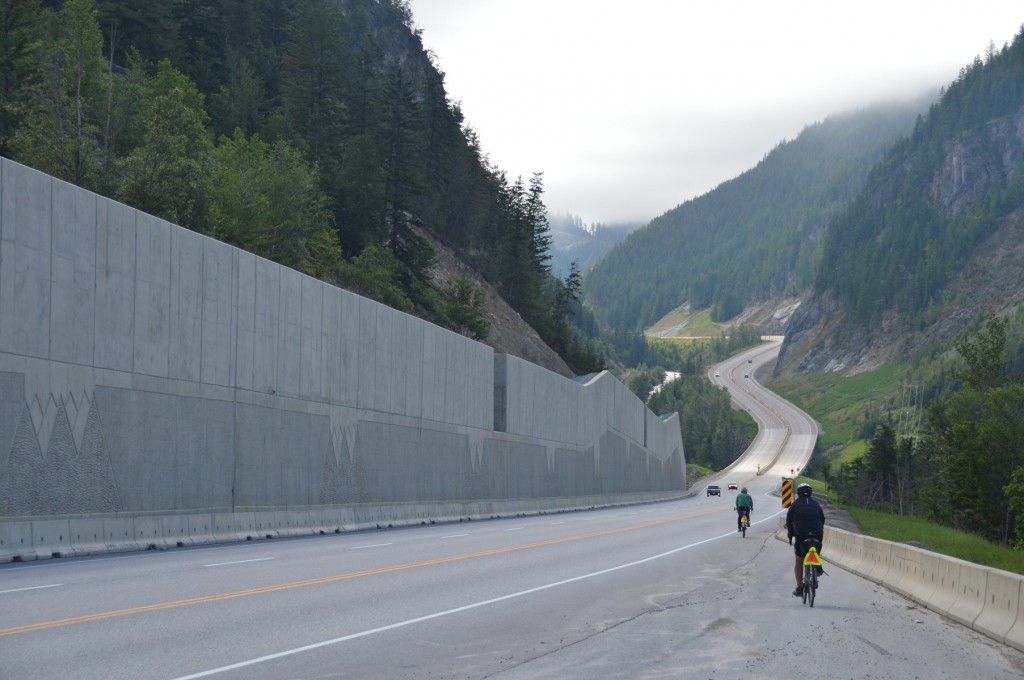 pictured above:  Bill and Joyce descending on new part of TCH east of Golden, BC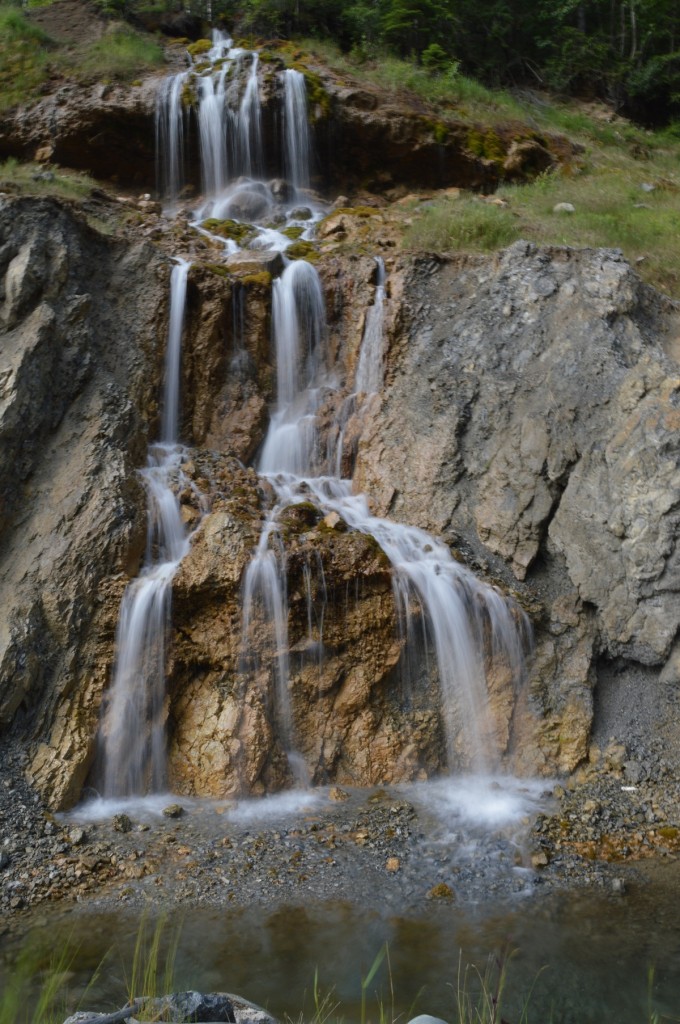 pictured above:  one of several mini-falls from holes in the hilside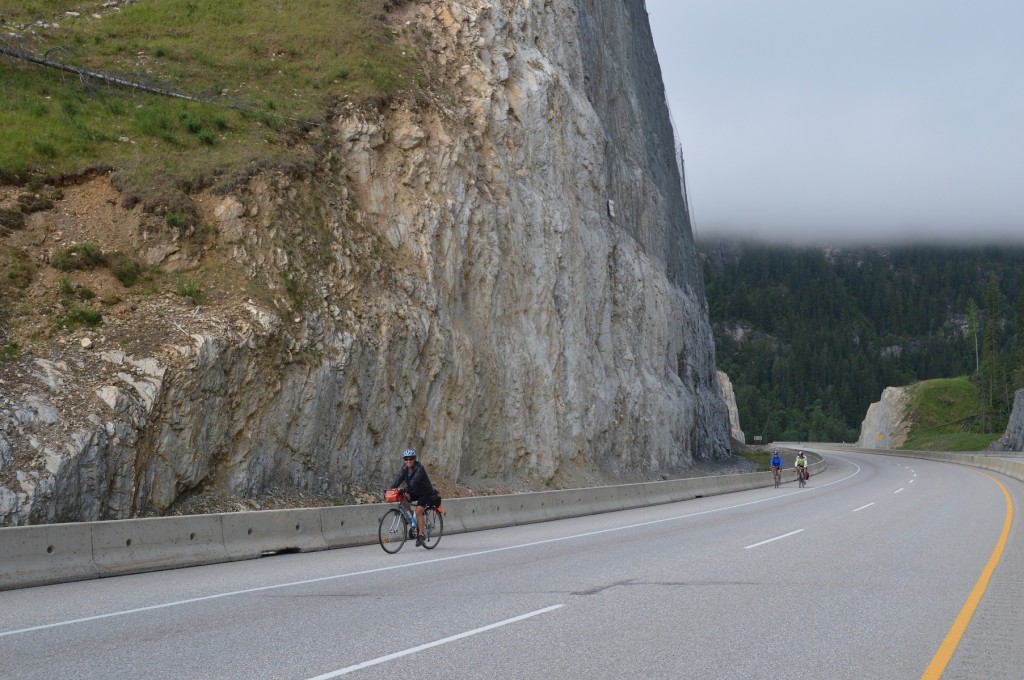 pictured above:  Joyce heading for the summit with Irene and Bob following closely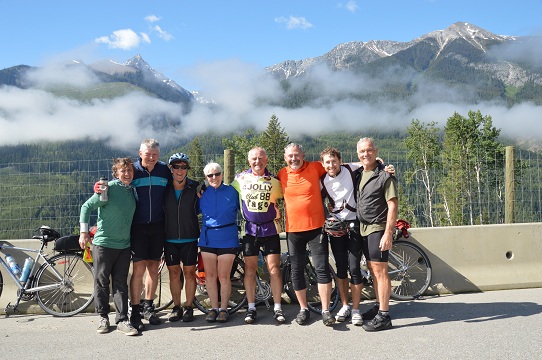 pictured above:   "Kodak moment" of Bill, Mike, Joyce, Irene, Bob, Larry, Gee, Dan at first summit above Golden, BC
Like much of the mountain riding, pictures were a must.  It was tough not to stop regularly to record the scenery, the ride taking longer than normal.  But, it wasn't long before we were in Field, a small town on the Kicking Horse River, established in the 1880s as a community for the construction workers of the Canadian Pacific Railway.  The CPR still runs adjacent to the town, but the railway is not as prominent in the town as in years past.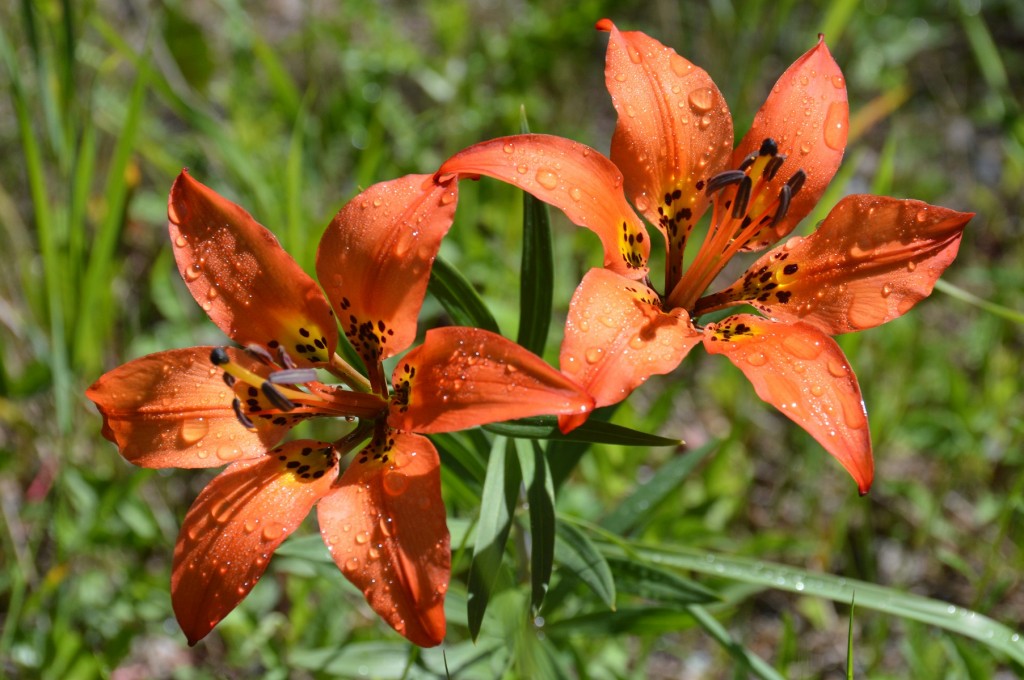 pictured above:  morning dew on flowers on roadside west of Field
 pictured above:  Joyce approaching Field, BC dwarfed by Cathedral Mountain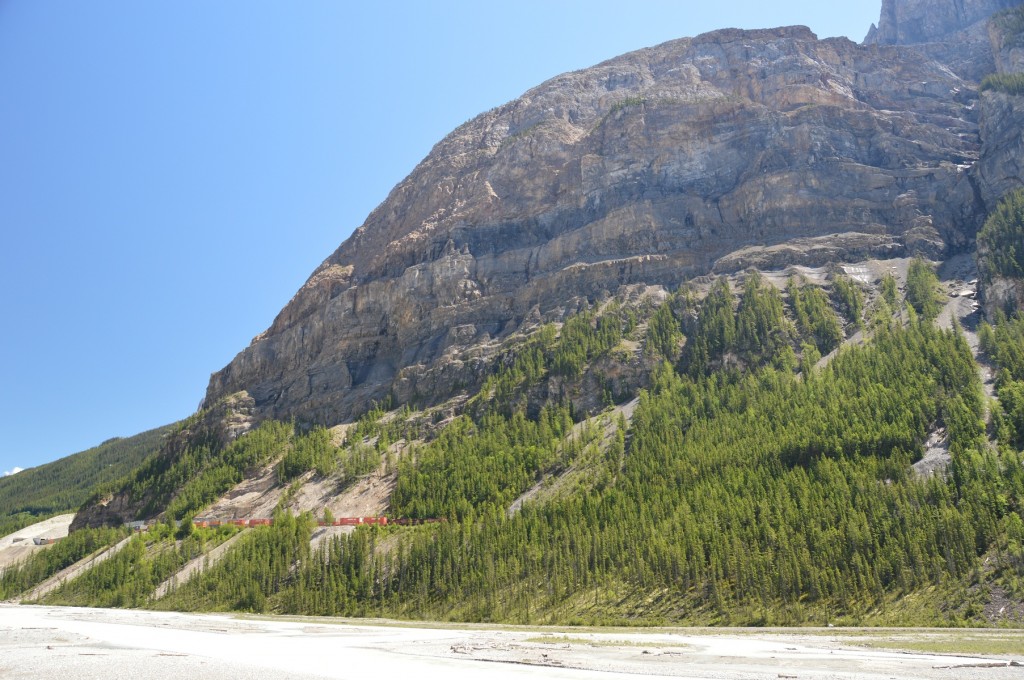 pictured above:  CPR train westbound toward Field; Kicking Horse River in foreground
Due to a storm the previous night, power had been knocked out, so we were out of luck for services, primarily, a coffee break.  It was even tough to get our water bottles filled for our continued journey on this hot day.
Up we pedalled to the Spiral Tunnels, then the summit of Kicking Horse Pass.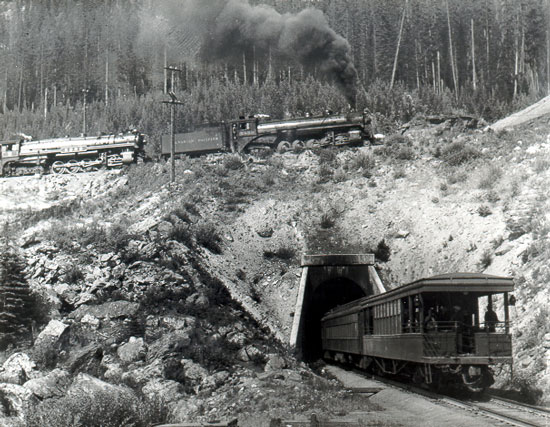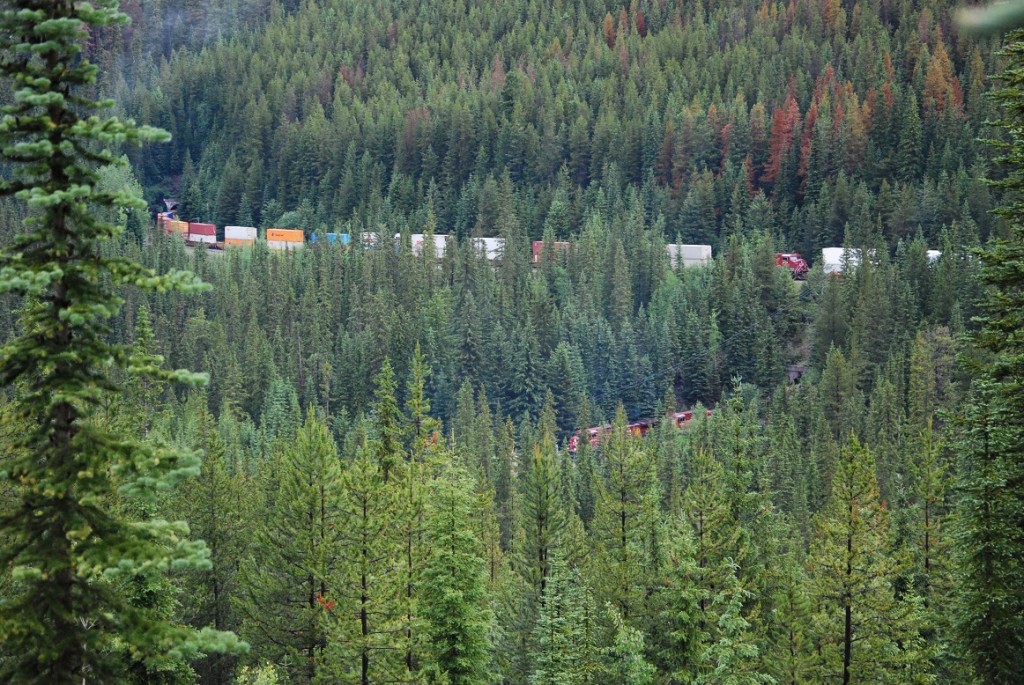 pictured above:  b&w photo of yesteryear compliments of Field website; both photos of the Spiral Tunnel
Kicking Horse Pass and the adjacent river were named by James Hector of Captain John Palliser's expedition in 1858. Hector, a naturalist, biologist, and doctor on the expedition, was kicked by his horse while crossing the pass.  In 1989, the Canadian Heritage Rivers System Board recognized the Kicking Horse River as a Canadian Heritage River. The designation recognized the heritage values of geology and earth history, exploration and transportation history, and scenic and recreational values.  Kicking Horse Pass is the highest point on the Canadian Pacific Railway, at an elevation of 5,338 feet (1,627 m).  (Parks Canada)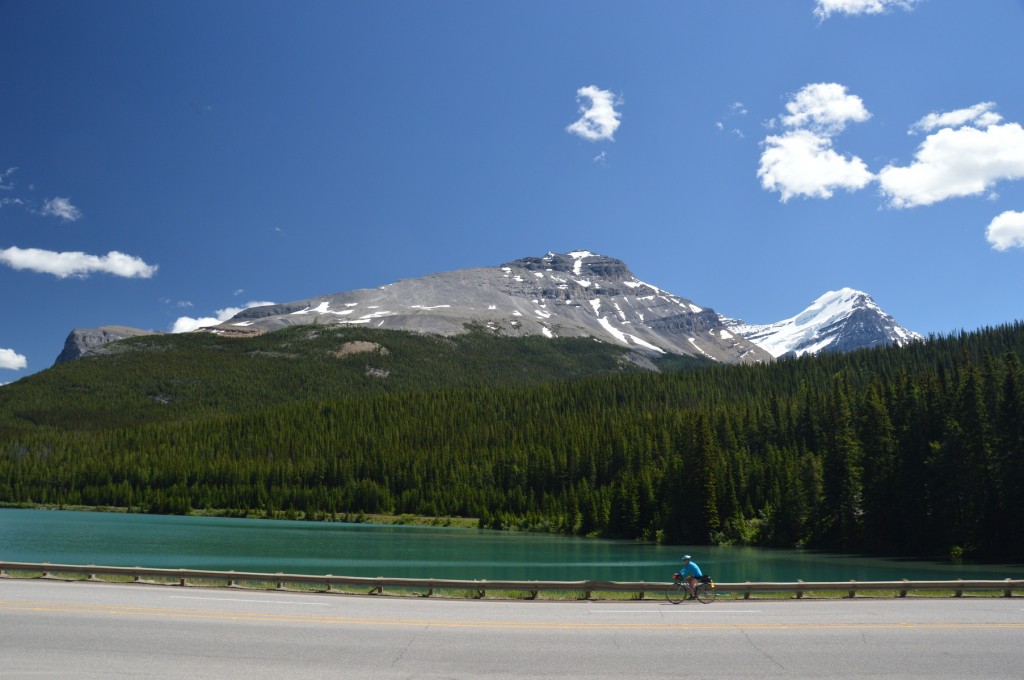 pictured above:  Joyce just east of Kicking Horse Pass summit
This eventually led us to the old highway, which we traversed, first crossing the Great Divide, the BC / Alberta border.  After a photo op, and contrary to a sign at the entrance, our group of six stayed together and made plenty of noise for bear reasons on our way into Lake Louise.   Some opted to continue up to the famous lake.  Others, including Joyce and I, continued to our campground for the night in the village of picturesque Lake Louise.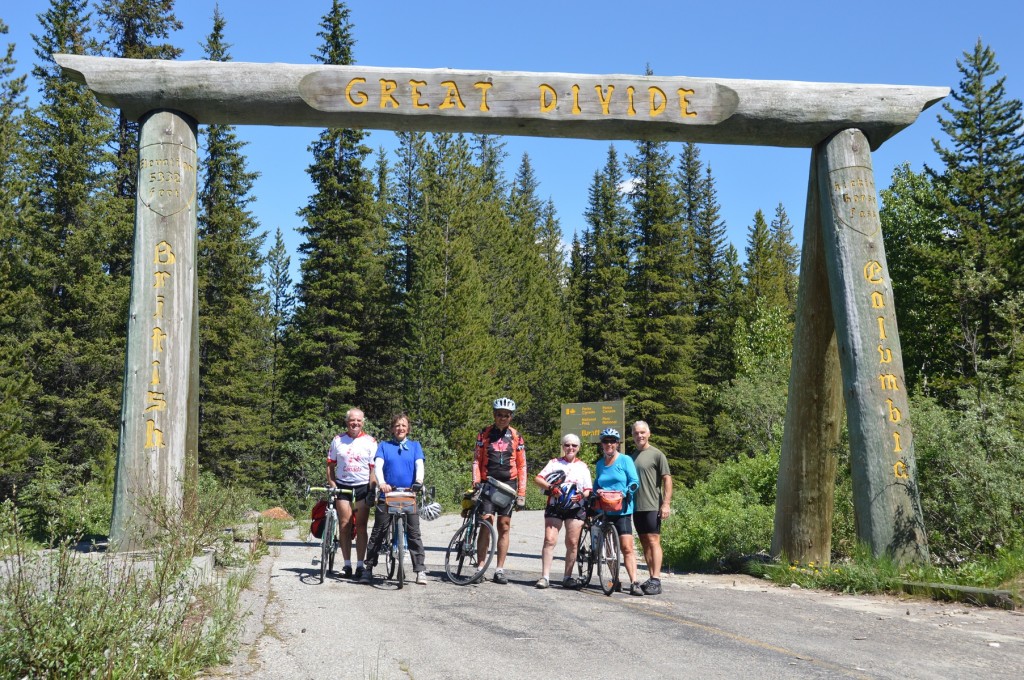 pictured above:  Bob, Bill, Fred, Irene, Joyce, and Dan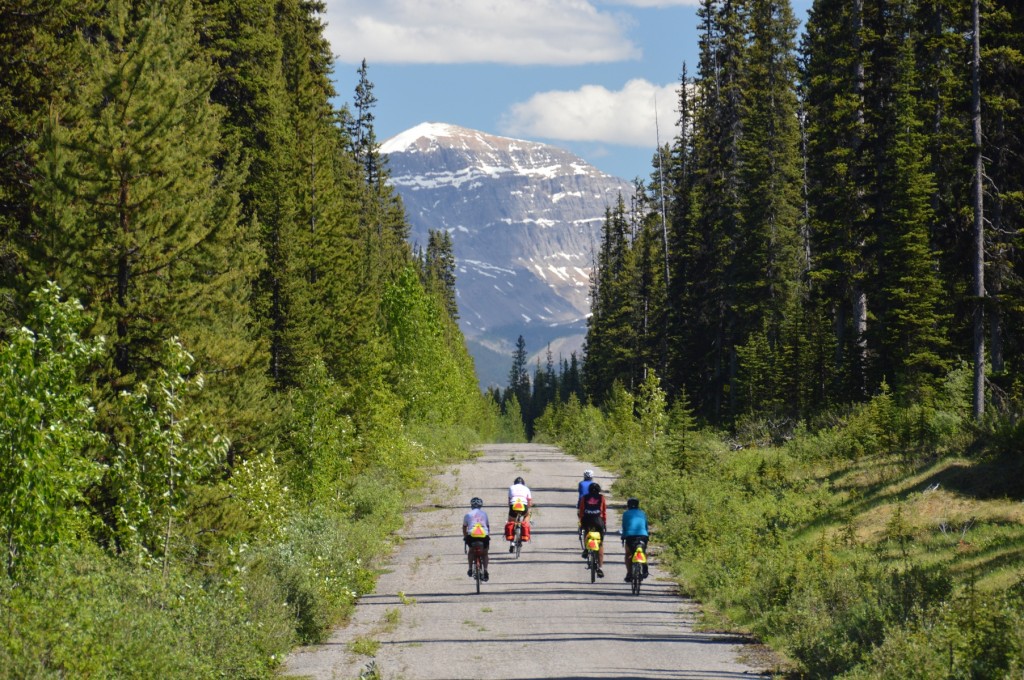 pictured above:  riders including Joyce  on right heading toward Lake Louise on old highway
Mike, one of our tour riders, had heard about the "Great Divide", and decided to go there,  … alone.  From England, he knew little about bears.  On route, he "flew" by a grizzly grazing by the side of the road.  Shortly after, another bear, which stood up on his hind legs, confronted Mike.  Mike turned tail and rode away quickly, contrary to recommended procedure.  He never did see the "Great Divide".  Oh yes, and he got back safely.
Our next day, Monday, 01 July was a short day, scheduled so that we could enjoy the area.  Joyce, Bill, and I headed for Banff on the TCH.  Bow Valley Parkway, our planned route, had a sign at the beginning, "closed" due to damage by spring flooding.  We learned later that it was not passable by car, but navigable by bike.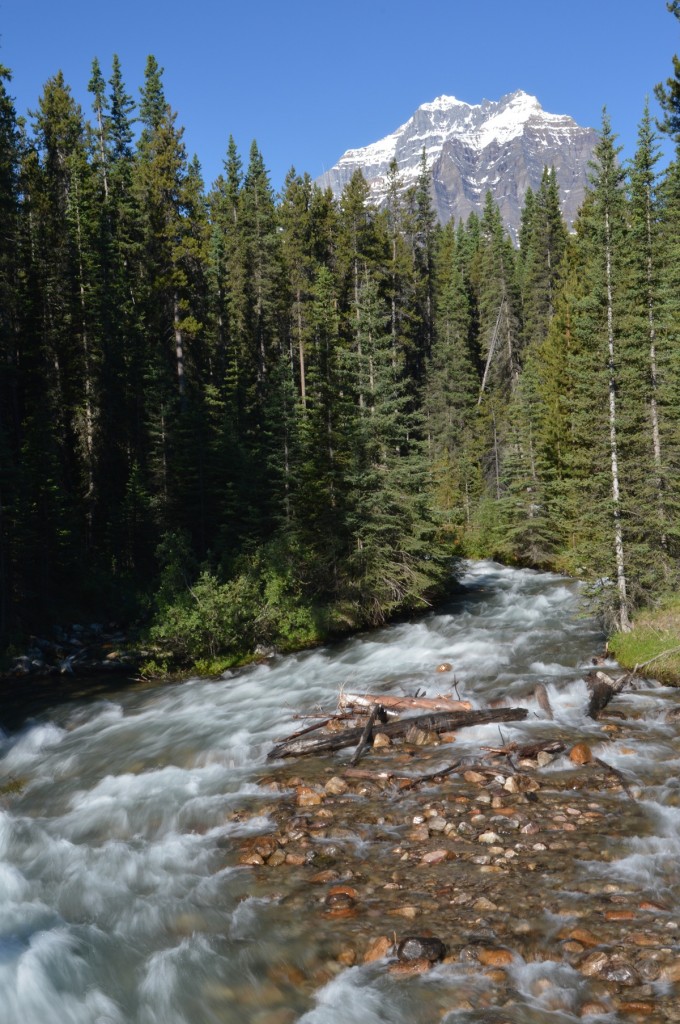 Stupendous scenery, again!    With a tailwind at our backs, we rode along at an average speed of 29 kph., not fast enough to keep us from stopping to enjoy our surroundings knowing that we'd be out of the mountains tomorrow.  Our 52 kilometre ride only took three hours to downtown Banff by 11:20 am.
Our bikes allowed us quick passage on the main street, crowded with holiday traffic.  After enjoying lunch and a coffee like tourists, the iconic Banff Springs Hotel was our next stop.  What an impressive edifice!  Joyce and I sat on the lawn across the street and admired the hotel, built on the initiative of Sir William C. VanHorne who stated, "Since we can't export the scenery, we shall have to import the tourists.".  A visit to Bow River Falls, quite the torrent, below the hotel ended our day as tourists as we proceeded uphill to Tunnel Mountain Campground.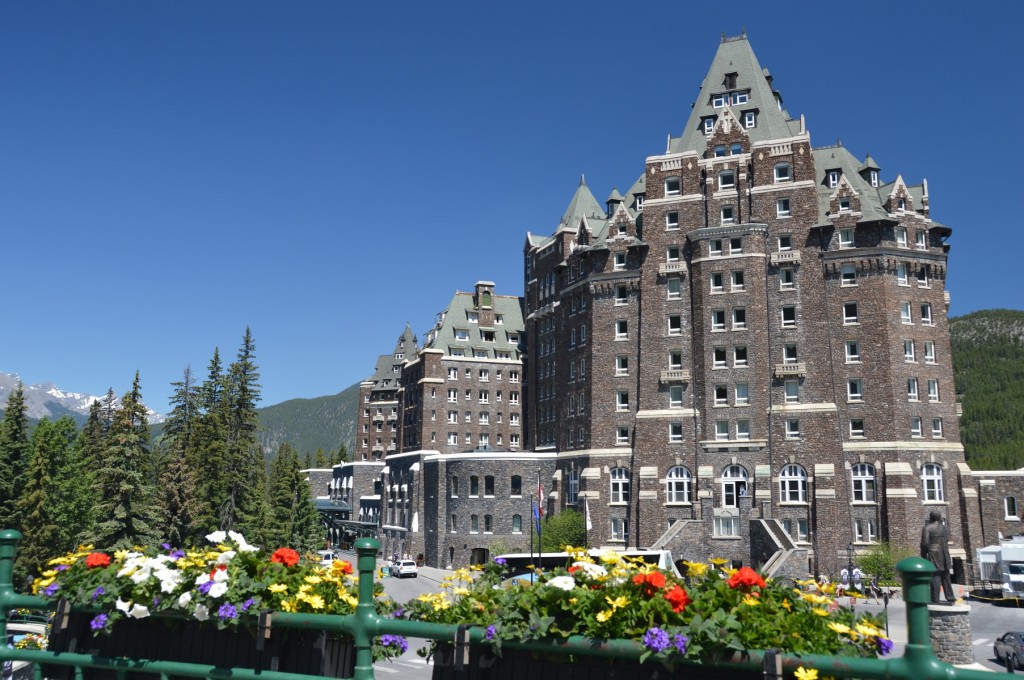 pictured above:  Banff Springs Hotel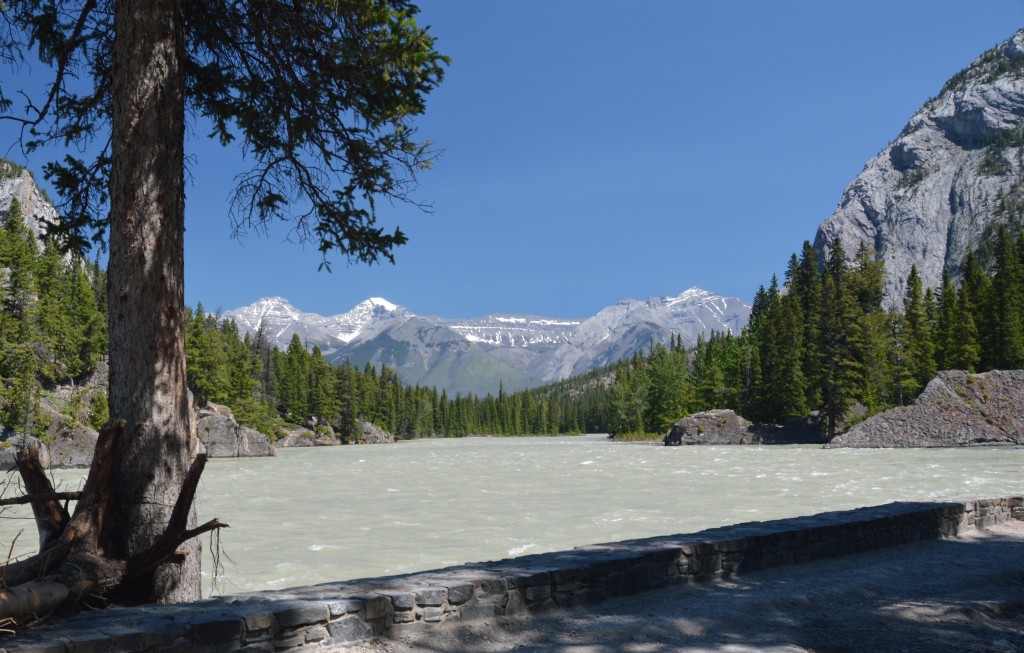 pictured above:  Bow River below hotel
Leaving Banff, the devastation from the spring flooding was quite obvious.  Culverts easily heaved by the surging water lined river banks and ditches.  Crews were putting the finishing touches on pavement in the Canmore area.  And, leaving Banff, we were leaving the Rockies, a beautiful part of this country, this world.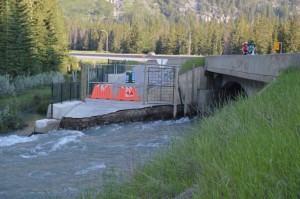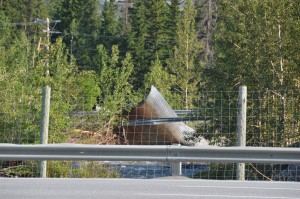 pictured above:  recreational trail washed away; culvert carried away by torrent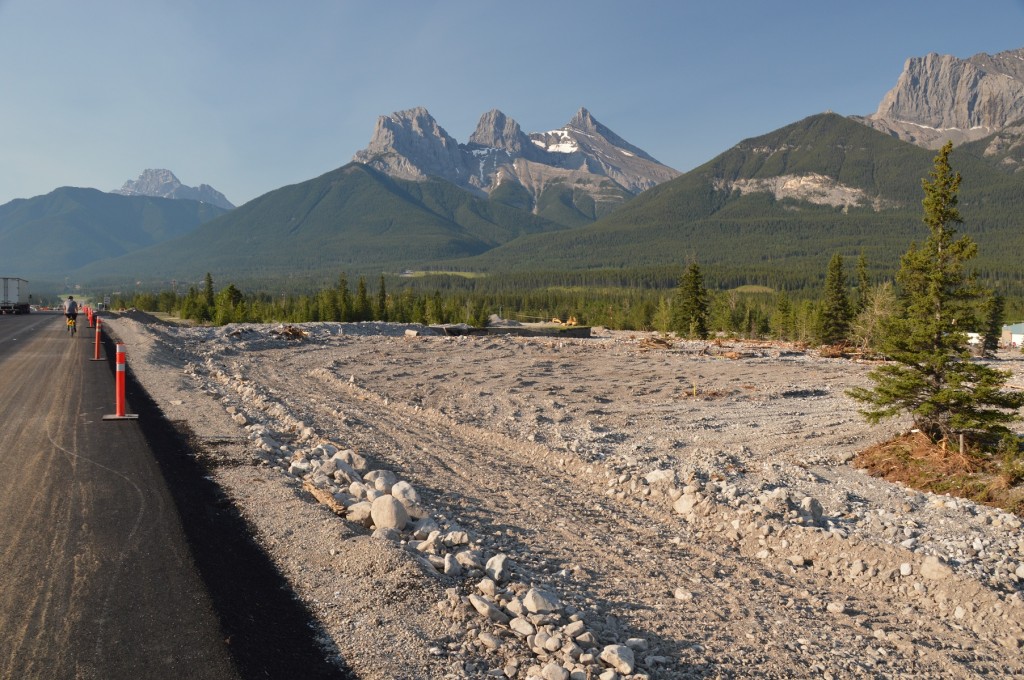 pictured above:  new blacktop on TCH, Canmore; sediment deposit at right of picture
The flooding closed Hwy. #1A from Canmore, the lesser trafficked, more scenic, secondary route of previous years, necessitating biking along the TCH.  We eventually did shift to #1A further east to watch the mountains slowly, begrudgingly, fade from sight to our rear.  The route led us to Cochrane, Alberta, a Calgary 'burb, thence north and east to Airdrie, another 'burb.  The tent site was in a local park near Airdrie arena and facilities.  Our 3:10 arrival allowed us to refresh and relax prior to preparing dinner which was our cooking group's responsibility that night.
Our ride on the day before rest days always begins with anticipation.  The night of 03 July, we would be rolling into Drumheller where we could relax and catch up on personal concerns the next day.  The day began with cooking breakfast, clean-up, and packing the truck.  Once done, the five in our cooking group were the last to depart.  Biking that day was tough.  Much of the day was cycling into headwinds.  The days' efforts were ultimately rewarded with a ride into the valley near Drumheller.  Joyce and Bill decided to continue through Drumheller to shop for rest day breakfast groceries.  Mike (he of bear fame who preferred company now) and I took the alternate route to a lookout, and then a river crossing by ferry.  The awesome scenery at Horsethief Canyon Lookout came at a cost, two hellish hills one kilometre plus long at 12%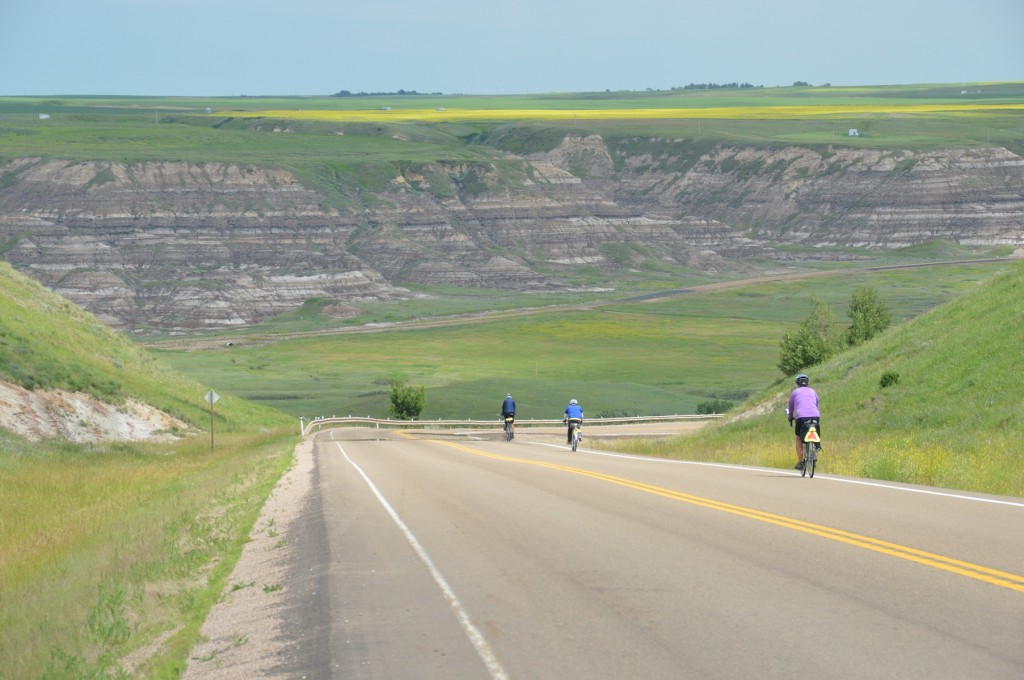 pictured above:  Mike, Bill, and Joyce entering valley near Drumheller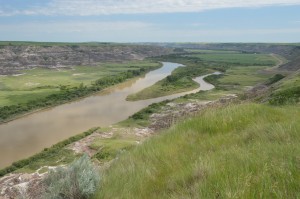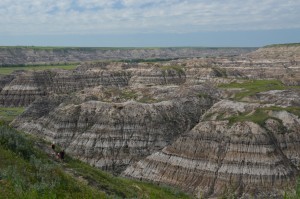 pictured above: view from lookouts on both sides of the river near Drumheller
Mike and I arrived in camp simultaneously as Bill and Joyce did.  They had enjoyed gallivanting around town.  But, Mike and I were the more fatigued from our trek on the longer, harder  course.
Rest day, Thursday, 04 July, our labours were directed toward sundry needs.  Joyce cooked a great breakfast of bacon and eggs for many to start the day.  Then, bike maintenance, laundry, our blog, and a huge order for pizza consumed our time.  Simultaneously with delivery of the pizza, our group learned of a "tornado watch".  A tornado did not materialize, but a severe thunder storm entertained as we gorged on pizza in the campground rec hall to end a great day.
Segment 3:  Golden to Drumheller
| | | | | | | |
| --- | --- | --- | --- | --- | --- | --- |
| Location  /  Date | Time camp to camp | Time on bike | Max. speed | Avg. speed | Distance | Trip to date |
| Lake Louise / 30 June | 8:00 | 5:19 | 49.0 | 16.5 | 87.5 | 844.1 |
| Banff  /  01 July | 6:26 | 2:39 | 45.1 | 22.9 | 60.7 | 904.8 |
| Airdrie  /  02 July | 7:30 | 6:14 | 54.9 | 23.9 | 148.1 | 1052.9 |
| Drumheller  /  03 July | 8:45 | 6:23 | 57.5 | 20.1 | 128.9 | 1181.8 |