Packed, fed, and caffeinated, our route for the first day of our second segment was the secondary highway between Merritt and Kamloops.  In yesteryear, however, it was a wagon road, the main connection between the two communities.  It wasn't long before we made our first stop in history, Murray United Church, and shortly thereafter, Quilchena Hotel and Quilchena General Store.  All were integral parts of the communities that sprung up along the route to serve travellers.  Neither the church nor the hotel served us, but Joyce satisfied here penchant for spending money on her grandchildren by patronizing the store.  In the future, we'll likely return to the hotel to reminisce our tour and its era since it's still operating with period furnishings.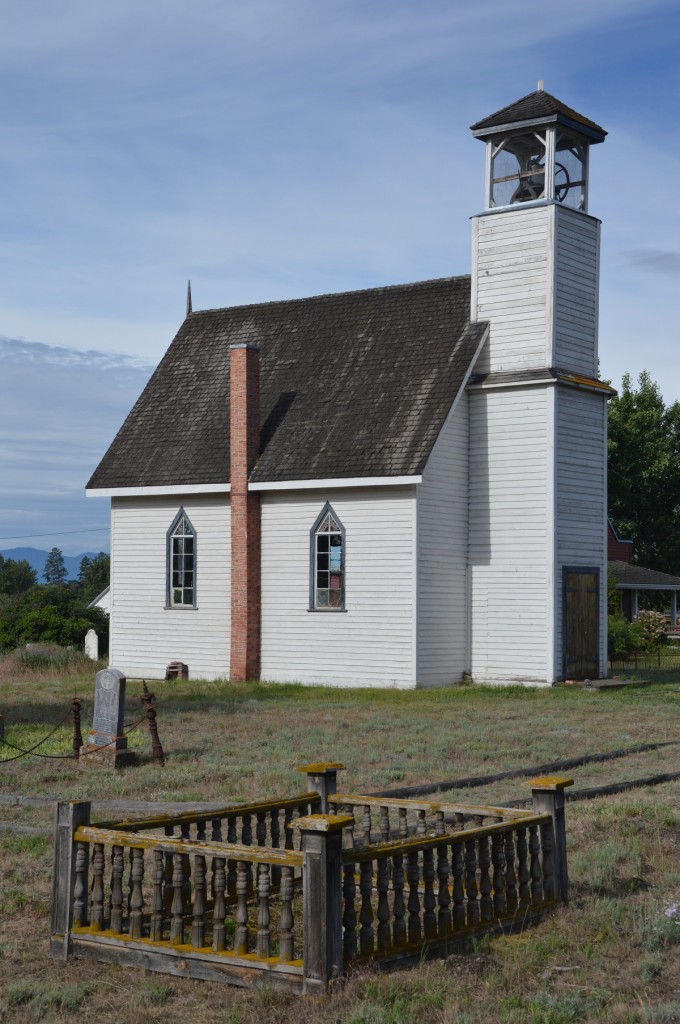 pictured above:  Murray United Church established 1886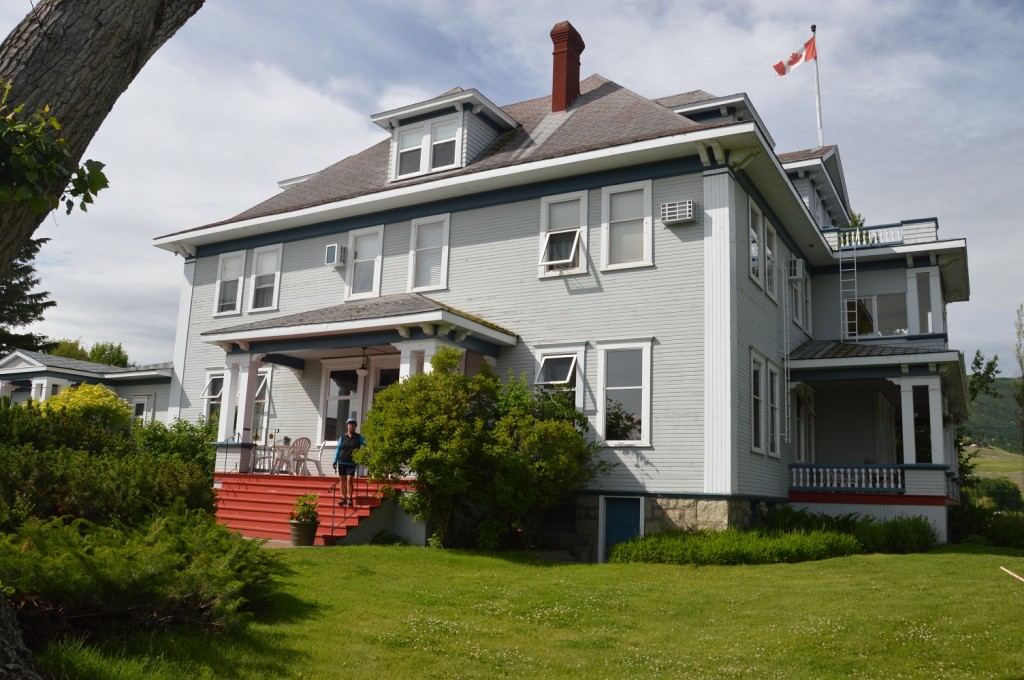 pictured above:  Joyce on porch of Quilchena Hotel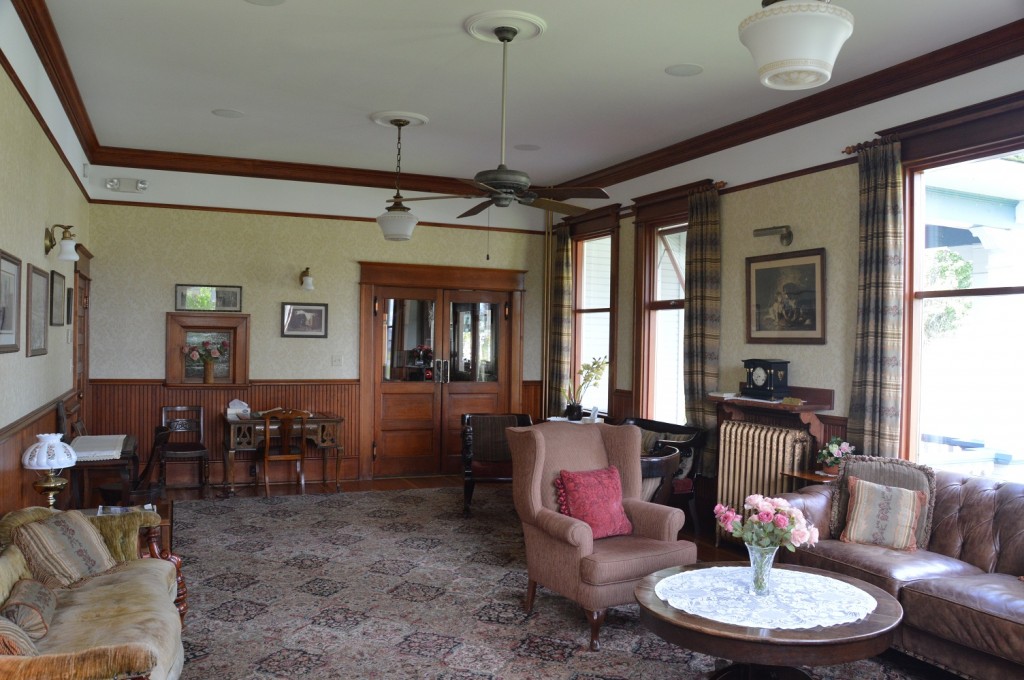 pictured above:  period sitting room of Quilchena Hotel
During the day, different riders joined us to take pleasure in the terrific landscape, which varied from grassland to lakes.  The day ended with another tough climb to our campground for the night in Knutsford.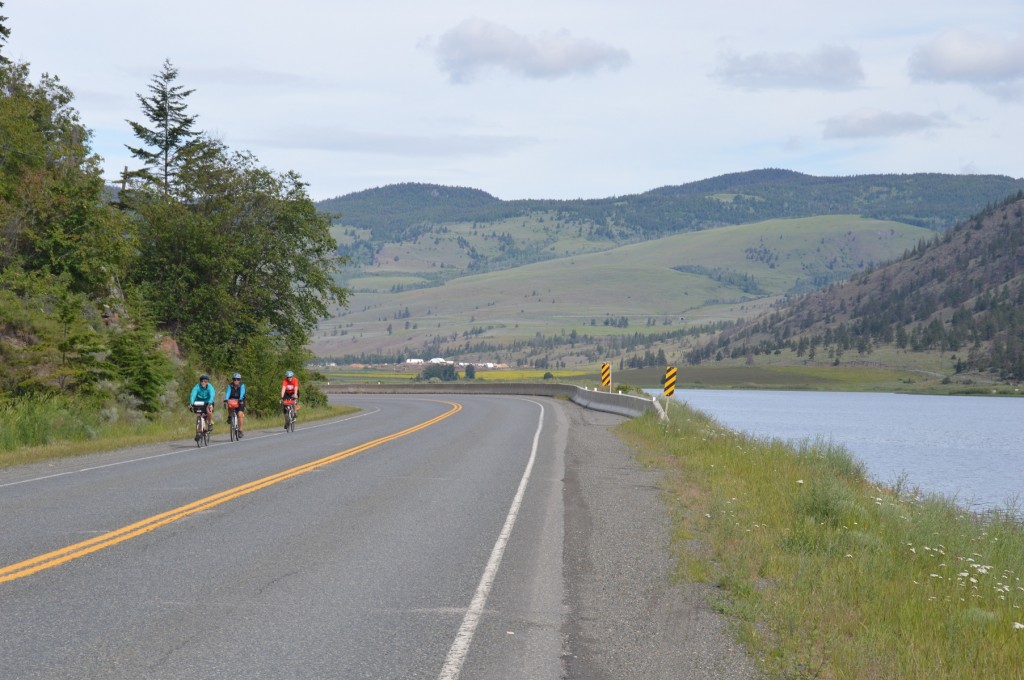 pictured above:  Myra, Joyce and Jackie on road from Merritt
After a tough, twelve-kilometre downhill through Kamloops to begin our day 26 June, we relaxed at a Tim Hortons for a bagel and coffee.   Treats did not end there.  Later that afternoon, Larry and Gee, Joyce and I pooled our finances to buy an out-of-the-oven fresh, apple raspberry pie with ice cream.  Scrumptious!  The pie slid down easier than the ice cream, which the proprietor donated when she heard of our travels.  Sandwiched between treats, Joyce tested my mechanical skills to fix a flat caused by a staple near Pritchard.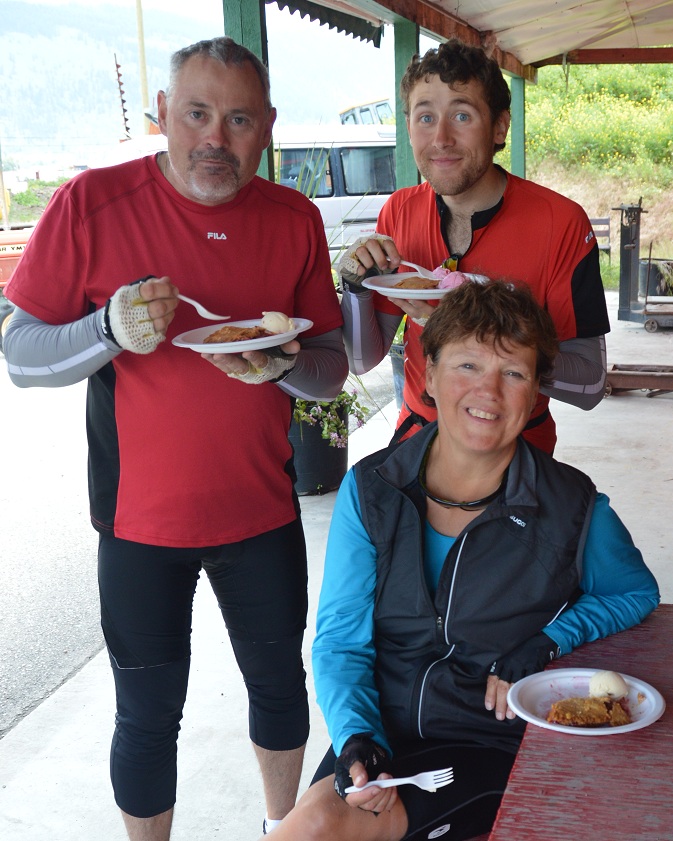 pictured above:  Larry, Gee, and Joyce enjoying pie
Light rain, actually refreshing on this hot day, accompanied us into Salmon Arm.  We chose the "scenic route" into camp.  I've never seen, nor ridden, so many horrendous hills in such a short distance as I did this day.  A shaded campsite by a creek among giant cedar was welcomed.
Thursday, 27 June started similarly as the day before with a coffee and bagel at Tim Hortons in Sorrento, not long into our day's mileage.  Shortly after, Craigelachie, scene of the "Last Spike", which Donald Smith drove in to complete the "iron ribbon" across the country in 1885, is a must see, historic site many of the riders enjoyed.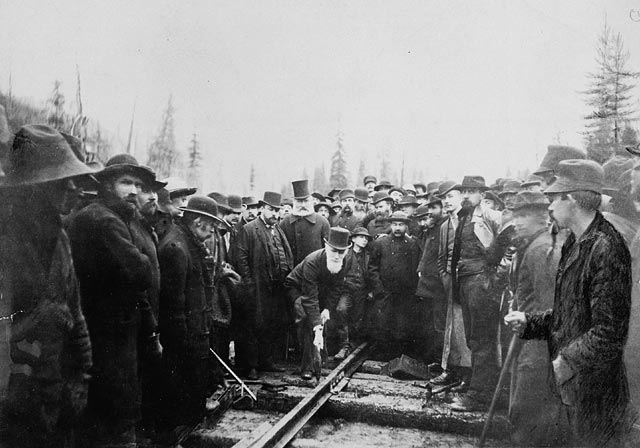 pictured above: Donald Smith driving the "Last Spike" 1885; from P. Buron publication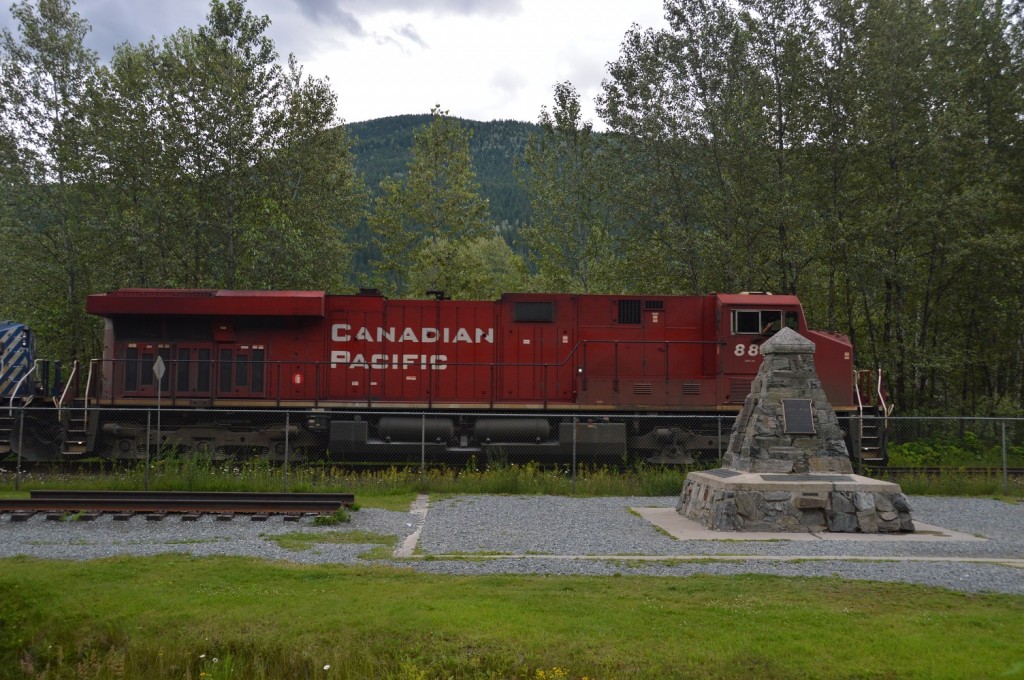 pictured above:  train passing "Last Spike" plaque
Our cook crew of five was responsible for supper that night, our second of many to come.  Somehow, we five ended up riding together later in the day into our Albert Canyon Campsite.  The scenery was stunning again, Three Valley Gap and Revelstoke still being two of my favourite areas.  Coffee at Tim Hortons in Revelstoke provided the necessary and refreshing  rest for our final push.  Our preparation of chicken and angel hair with Rice Krispie squares for dessert nicely ended another hilly day.
The previous night's supper, and breakfast of porridge and pancakes, was good fuel for our impending ascent, Roger's Pass.  It was the third of four, the "Big Brother" of them all, the first two being the Coq, then Eagle Pass near Revelsoke.
Starting at 9:05 am., it wasn't until 11:55, after many water, food, and pee breaks that we crested the summit.  The day was clear and sunny, unlike our 2009 ascent of cloud and rain. The striking panoramas kept us constantly awed to keep our minds off the gruelling uphill.  Our celebration at the top included hand-slapping with many other riders, alot of water, and the usual PBJ sandwiches.  The descent toward Golden included five snow sheds, and more fantastic vistas, although we had to keep our wits about us with the fast downhill speeds.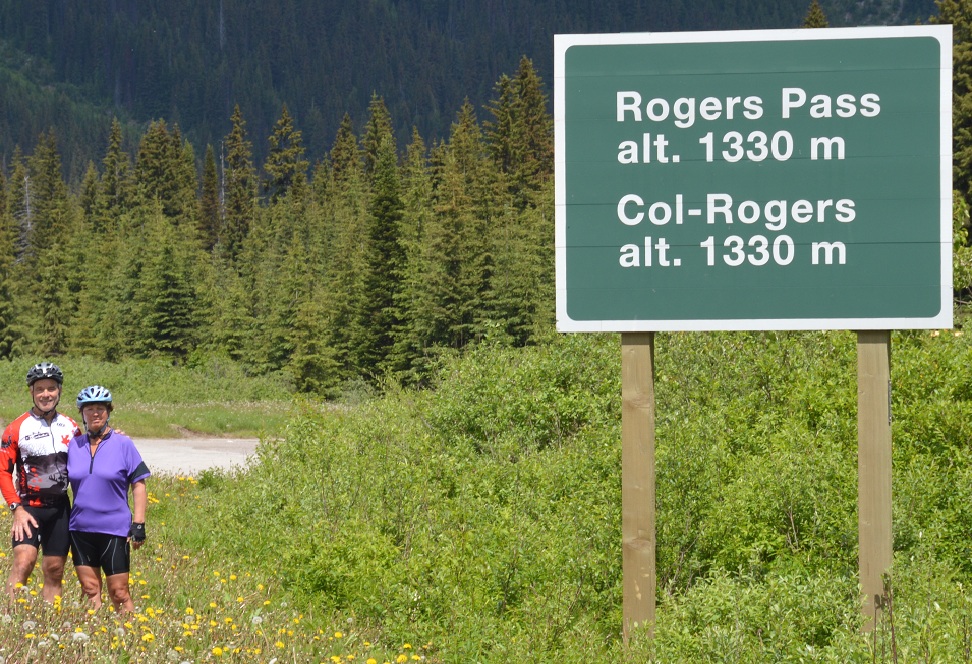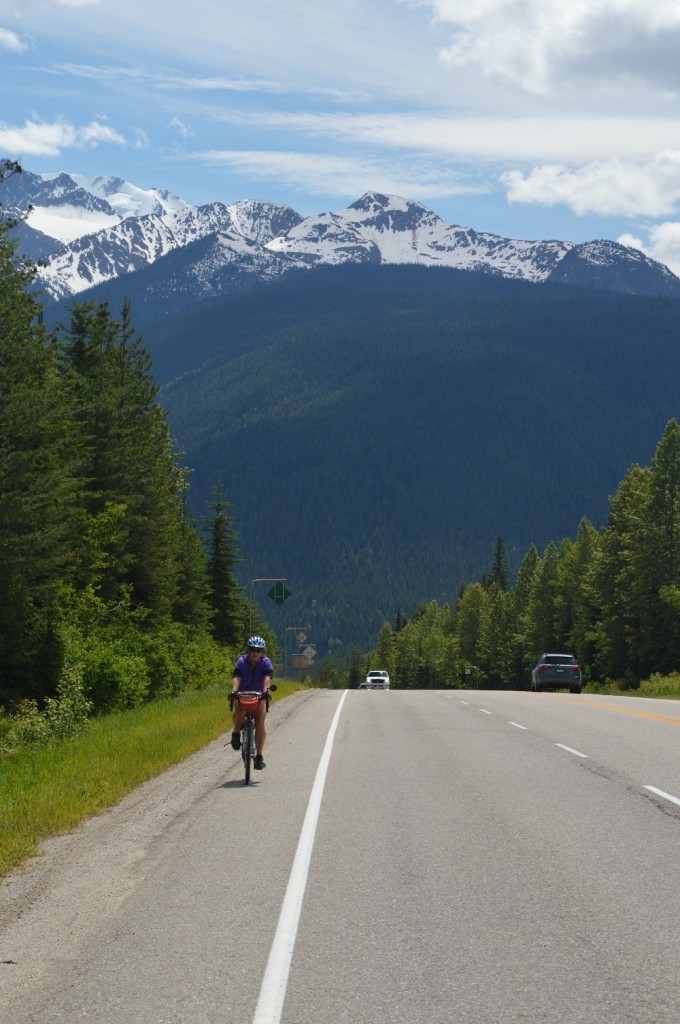 pictrured above:  Joyce finishing a climb in Roger's Pass area
Once in the valley, the day was hot and scenically uninspiring compared to Roger's Pass.  Our water had run out with no services for the last ten kilometres into Golden.  Our pre-arranged meeting with Bill was welcomed with a celebratory banana split at the Dairy Queen.  From there, it was not far to our rest day accommodations, Country Comfort B&B, which Joyce had arranged months back without any argument from me.  Besides the usual rest day responsibilities, Joyce and I indulged in massages.  What a tonic!  Our day ended with a thunderstorm, which we enjoyed with Bob and Irene during dinner at eleven22, a local eatery.
Segment 2  -  Merritt to Golden
| | | | | | | |
| --- | --- | --- | --- | --- | --- | --- |
| Location / Date | Time camp to camp | Time on bike | Max. speed | Avg. speed | Distance | Trip to date |
| Knutsford / 25 June | 6:30 | 4:00 | 52.4 | 22.2 | 89.1 | 384.4 |
| Canoe / 26 June | 8:45 | 6:44 | 46.5 | 19.7 | 132.7 | 517.1 |
| Albert Canyon / 27 June | 8:51 | 6:29 | ? | 20.5 | 129.7 | 646.8 |
| Golden / 28 June | 8:50 | 6:02 | 53.4 | 19.7 | 118.8 | 756.6 |