Segment 1  -  Vancouver to Merritt
The cycling route, well marked on the pavement with bicycle markings, on busy roads eventually lead us to quieter back streets and recreation trails.  With our daily map / directions, we easily navigated cycle-friendly Vancouver to end up on Vancouver's east side.  With only minor deviations, Hwy. #7 showed us the way to our first night's campground in Mission.  Our cooking group of five TdCers were responsible for cooking supper that night, so we couldn't dawdle.  Hungry cyclists are not particularly patient.  With the campground admission came a fresh trout.  The trout on a rice bed was a hit for supper.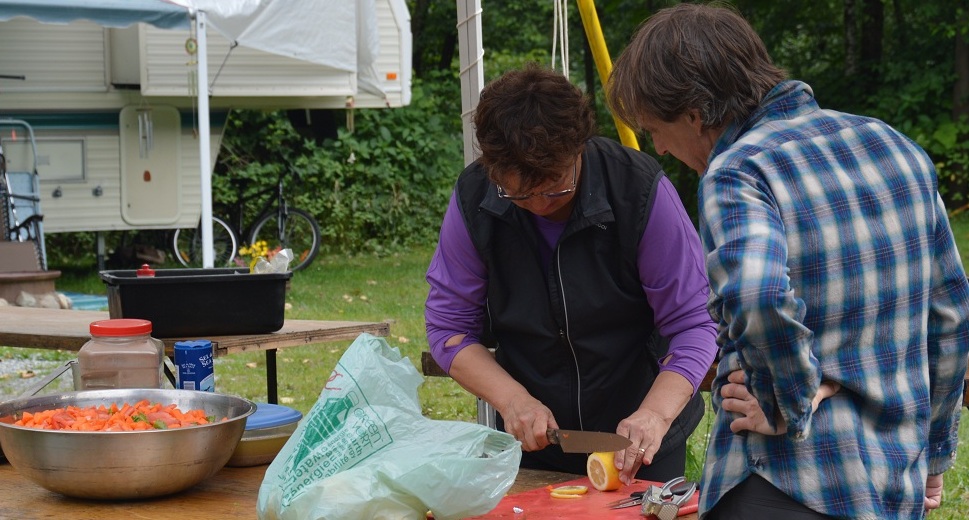 pictured above:  Joyce preparing trout dinner with Bill's helpful eye, another of our cook group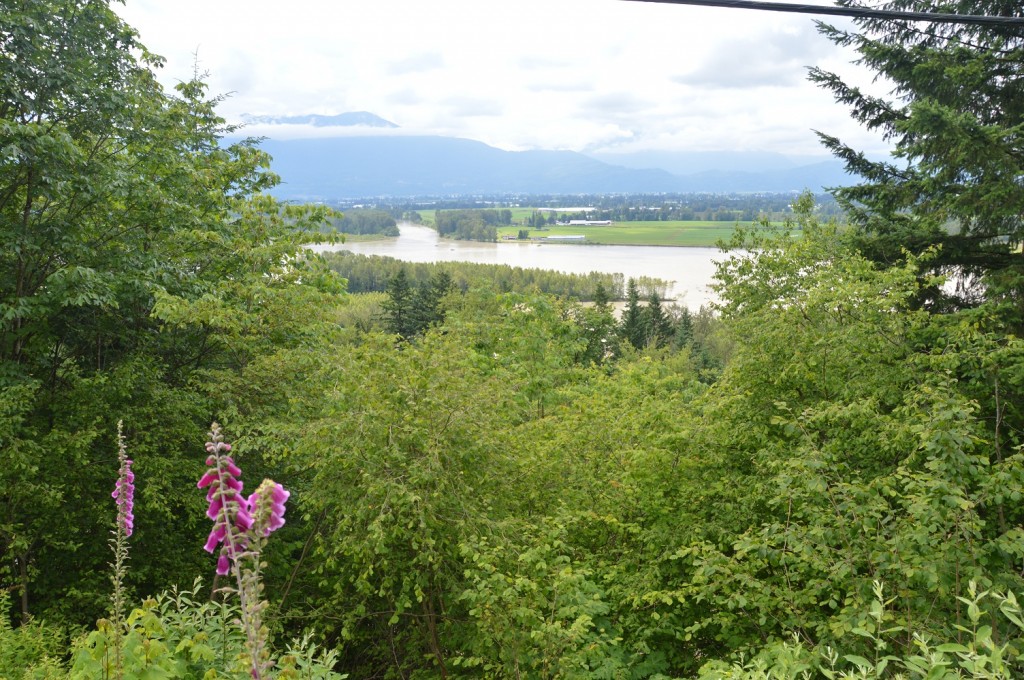 pictured above: Fraser River with mountains in background
Our following day to Hope was also in the Fraser Valley.  It was a hillier itinerary, an indication of days to come.  The Fraser River, the major river in BC and vital to its economy, was a scenic backdrop for the day.  Lunch with other riders in Agassiz was a great interlude.  At the end of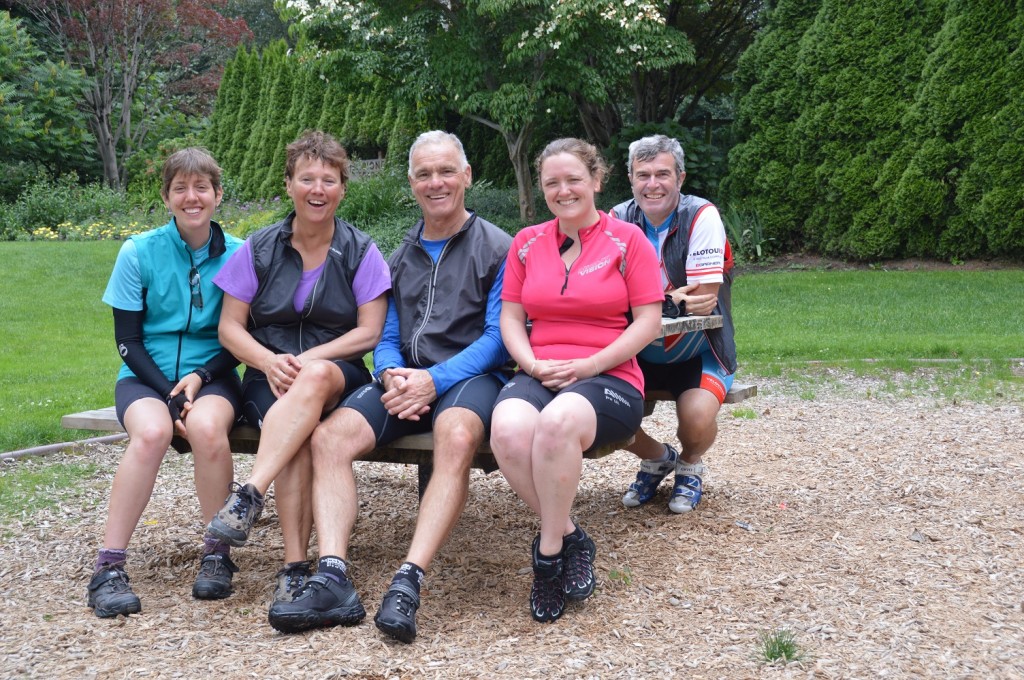 pictured above: Myra, Joyce, Dan, Louise, and Neil during lunch in Agassiz, BC
the day's journey, we enjoyed our first treat, a banana split at the DQ in Hope.  I had passed four to that point and wasn't going to be denied again.
Our second treat of the day was passage along the Kettle Valley Railroad bed.  Starting in the late 1800s, the KVR was constructed at great cost and hardship for economic reasons to service mining interests in the southern regions of British Columbia, and politically, to keep BC from considering joining the United States.  In 1989, the last segment of the railroad was abandoned eventually becoming the scenic trail it is today.  We moved slowly to enjoy the sights and sounds that our short journey over the rail bed offered.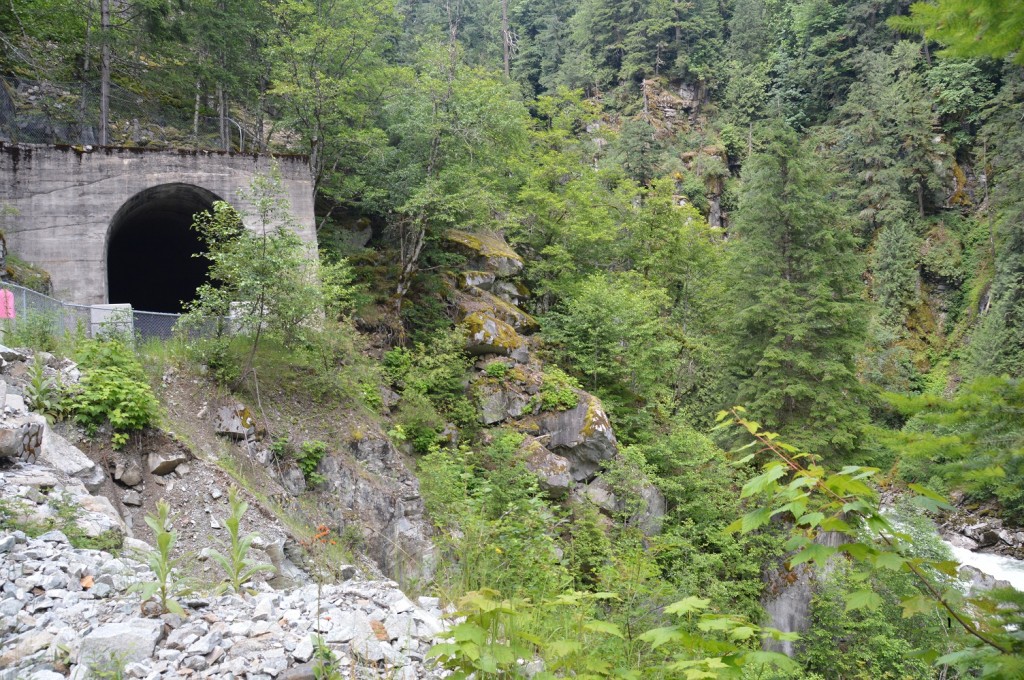 picured above:  railbed (upper left) leading through a 100 metre tunnel, blasted and picked by hand; you can see fast flowing river bottom right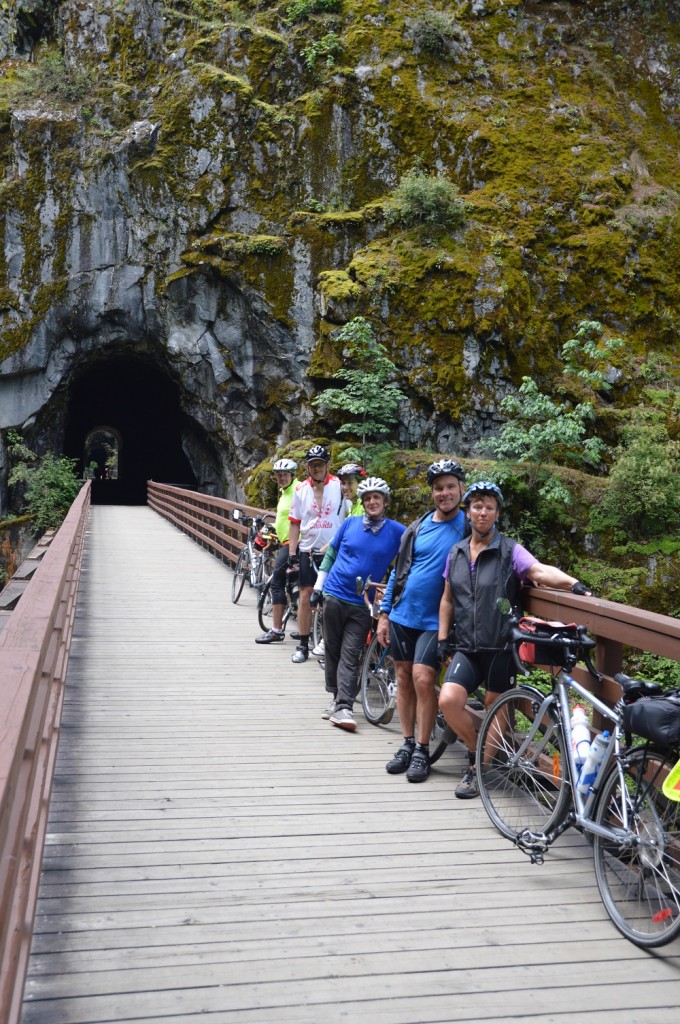 pictured above:  Joyce, Dan, Bill, Gee, Mike, and Larry on trestle between two tunnels with the river flowing beneath (below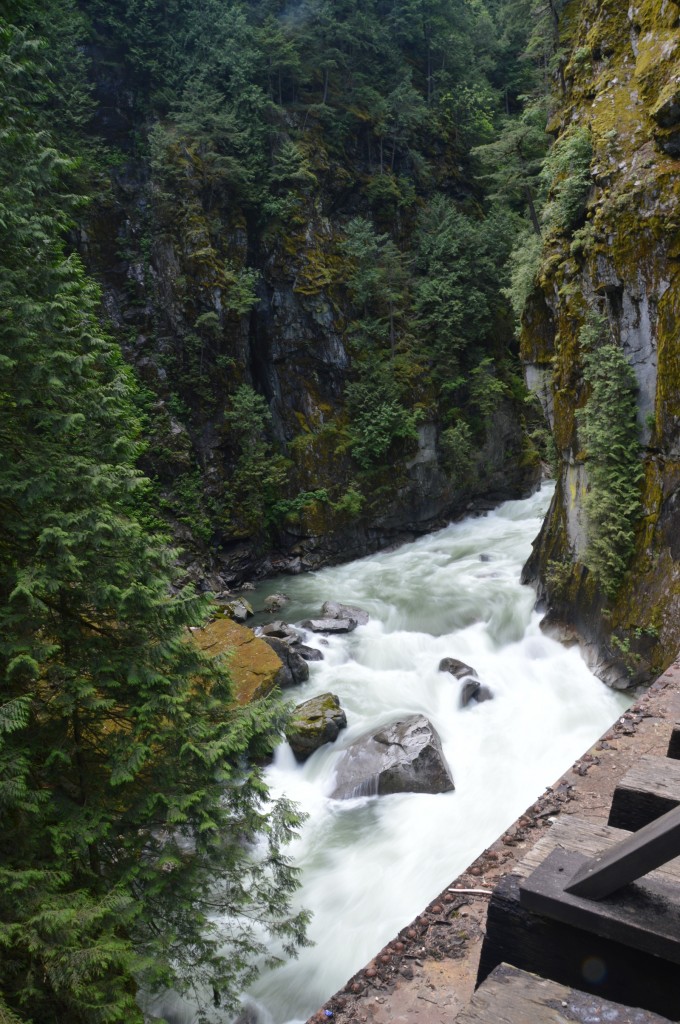 Bed was early since we had a hard day ahead of us, the Coq.  A clear, bright, sunny day greeted us the following morning.  Fuelled and hydrated well, our legs warmed up nicely over the first seventeen, level  kilometres to the base of the Coquihalla Pass.  Our climb up the eighteen- kilometre CoquiHELLa (Joyce's terminology) started at 9:10 am., and lasted for the next two hours with stops only to refuel and rehydrate.  That was our second, successful ascent, the first being in 2009.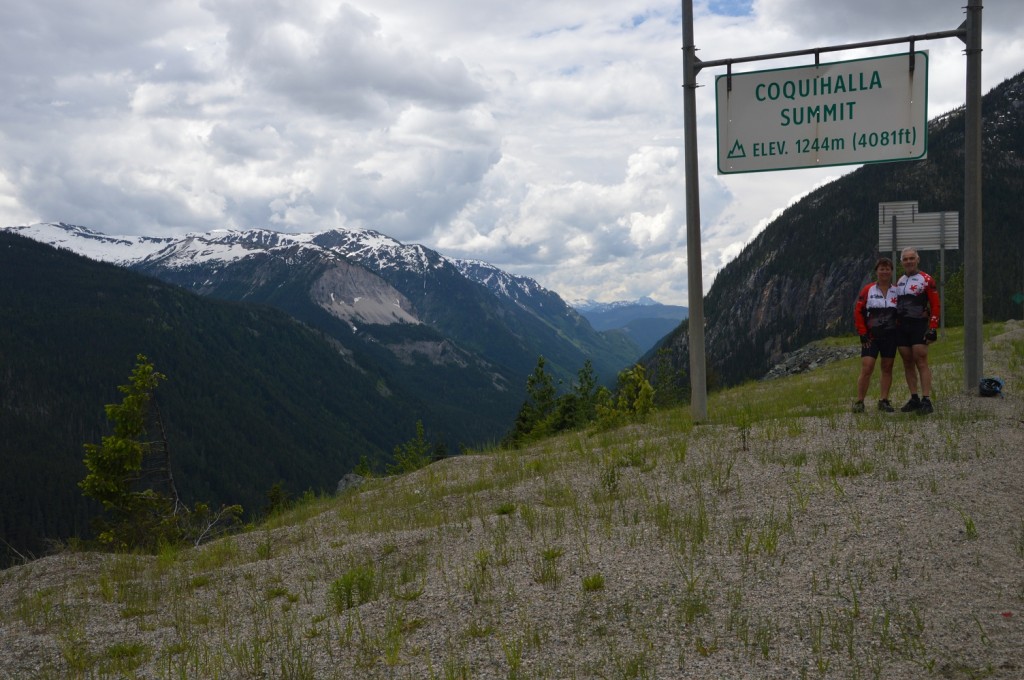 pictured above:  no caption necessary
Actually, the Coq seemed to be the easiest part.  After a considerable downhill and rest, our legs felt like lead weights as we attacked numerous hills leading into camp.  Additionally, there was some concern as we saw rainstorms in the near distance, but we only experienced light showers ourselves.  Fortunately, the sun prevailed.  We had neglected to pack our raincoats.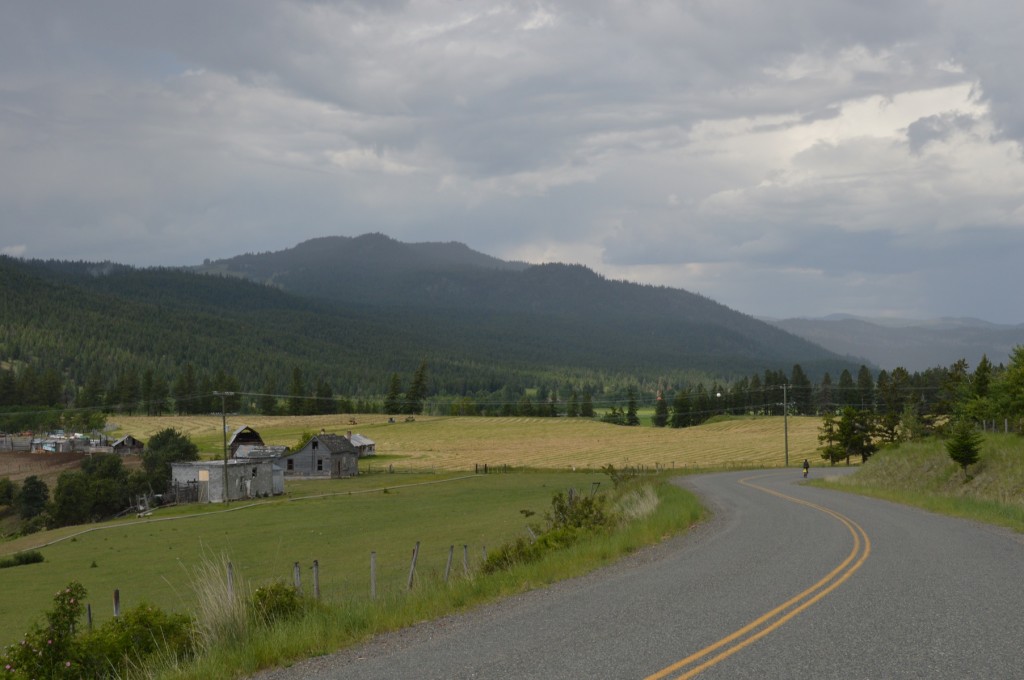 pictured above:  rain in centre right kept ahead of us;  Joyce making the turn
An overwhelming feeling of relief overcame us once we arrived in camp.  A tough, hilly day was behind us.  Merritt was our designated rest day on 24 June.  During our quiet day, we would reminisce the previous three days, and prepare for our next segment by resting, eating, connecting with family, eating, doing the wash, and eating.  Of course, we socialized and became more familiar with our co-tourers, primarily by dining at the hotel in town, recommended by locals.  They were bang-on since we enjoyed breakfast and dinner there.  A co-tourer from our 2009 attempt, Art Ecker, visited us from Penticton to recollect the good times of our 2009 tour.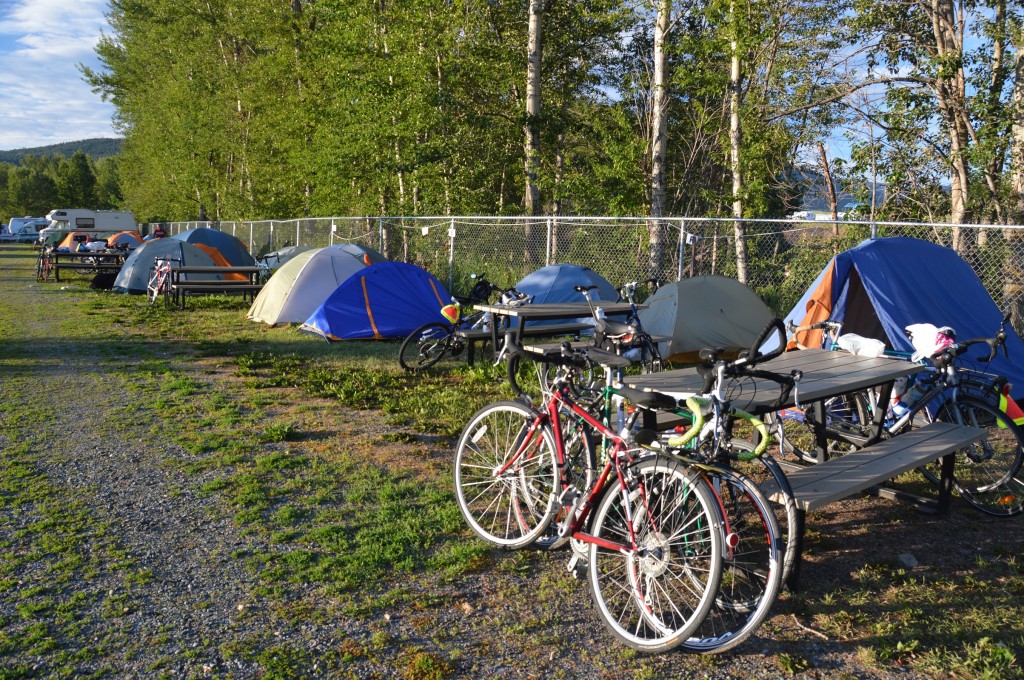 pictured above:  tent row Mission Municipal Campground
The rest day, meals, and socializing did wonders to prepare us for our next segment, Merritt to Golden.
| | | | | | | |
| --- | --- | --- | --- | --- | --- | --- |
| Date  /    Destination | Time camp to camp | Time on bike | Max. speed | Avg. speed | Distance | Trip to date |
| 21 June  /    Mission, BC | 5:45 hours | 4:11 hours | 46.3 | 20.2 | 84.3 | 84.3 |
| 22 June  /    Hope, BC | 7:25 | 4:48 | ??? | 20.8 | 99.5 | 183.8 |
| 23 June  /    Merritt, BC | 8:45 | 5:55 | 58.2 | 18.9 | 111.5 | 295.3 |
| 24 June  /    rest day | | | | | | |