Beep!  Beep!  Beep!  Beep!  5:30 am.  Damn alarm!  I roll over and do my worst impression of a push up, then stumble out of the tent to be blinded by the early morning sunlight.  It's Friday, 05 July and time to get up to start our next segment, Drumheller to Regina, five days away.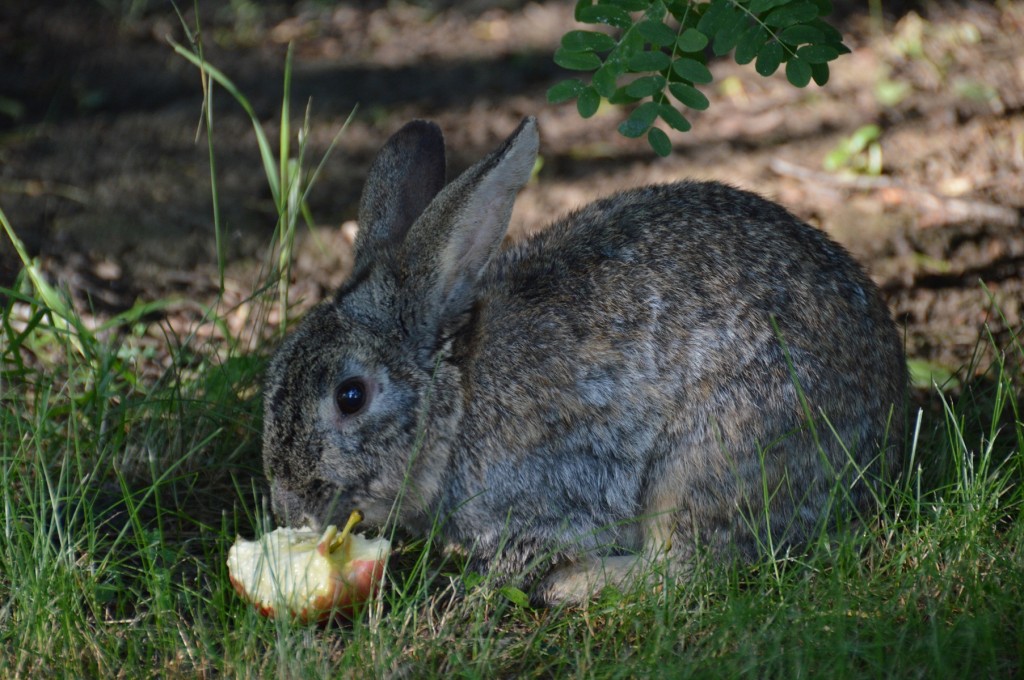 pictured above:  tame rabbits at Drumheller campground got too bld when one snatched an apple of mine
The ride out of camp was on new pavement with a tailwind.  Promising, but that didn't last since we turned left in Drumheller onto Highway #9 to take the direct route instead of the "scenic route".  This led us uphill out of the valley into a headwind.  Twenty-two kilometres later, Hwy. #9 went right providing us a more favourable crosswind.  Other than a quick stop in Hanna for a rest and food, we'd maintain this direction until we reached our destination, Youngstown.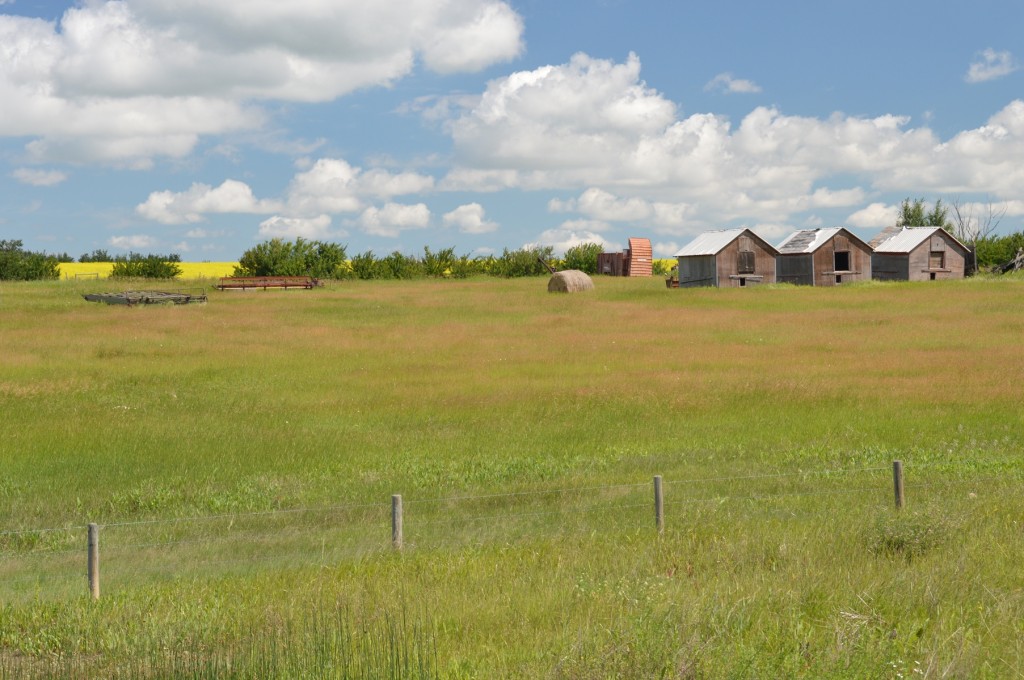 pictured above:  scenes of the prairie; upper left – long way home from the road, land and sky;  lower  -  some of several abandoned buildings on the prairies
Youngstown is special with TdCers.  For the past twenty-five years, the community has arranged a potluck supper for the riders.  We were grateful for the good food and hospitality. There was a Huntsville connection in the community for Joyce and me.  Bob and Debbie ALLEN were Huntsville residents / business people, until they made a monumental decision to move west.  They haven't regretted the move, have a successful cattle business, and love "small town" living.  We know them better now than when they lived in Huntsville.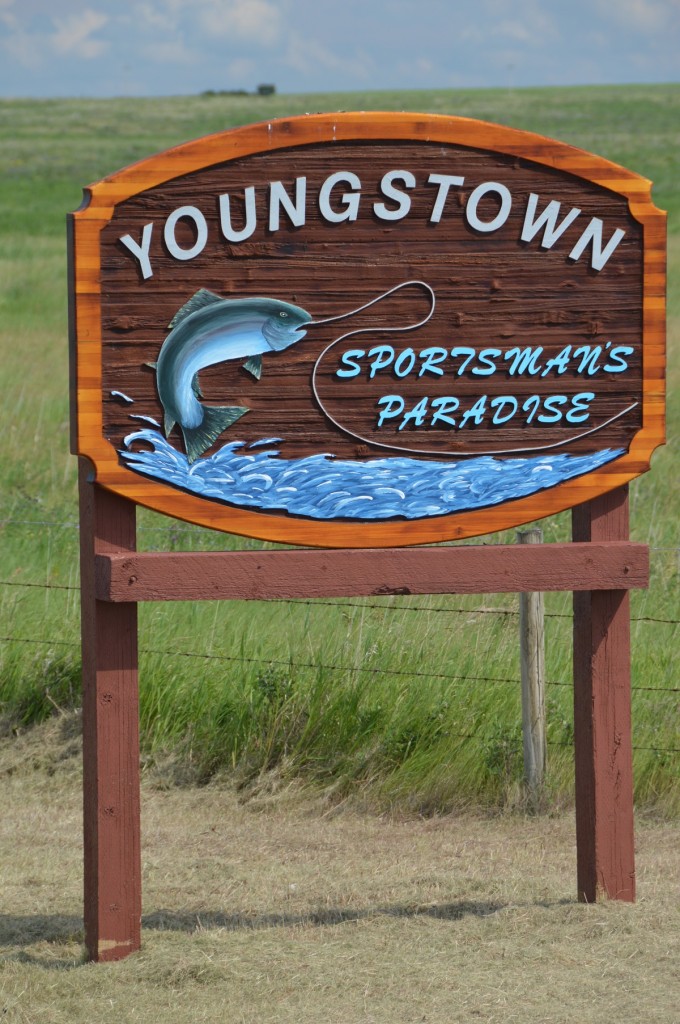 pictured above:  lining up for copious amounts fo grub; Myra and Louise ready to dig in; residents made a cake to celebrate Tour du Canada's 25th
Much like yesterday, the ride to Kindersley was a long road "without a bend in it", rather disinteresting.  Shortly into the day's ride, Joyce continued to experience pain in her left shoulder from the day before.  Rather than exacerbate the problem, we flagged down the tour truck so Joyce could hitch a ride and nurse her shoulder back to health.
The excitement for the day was crossing the Alberta / Saskatchewan border at 11:45 am.  Ten riders congregated there, so we took advantage of the photo opportunity.  After a quick lunch, it wouldn't be until 4:36 pm. before we arrived in camp.  The Kindersley DQ was a welcome and refreshing stop for Bill and me, which delayed our arrival.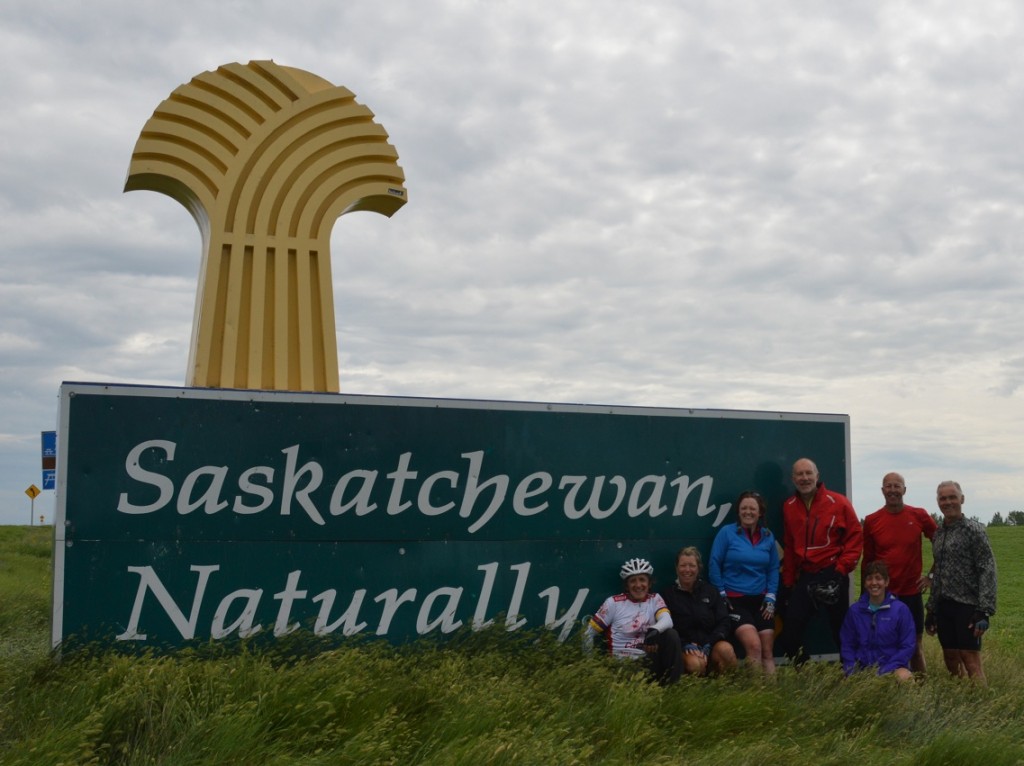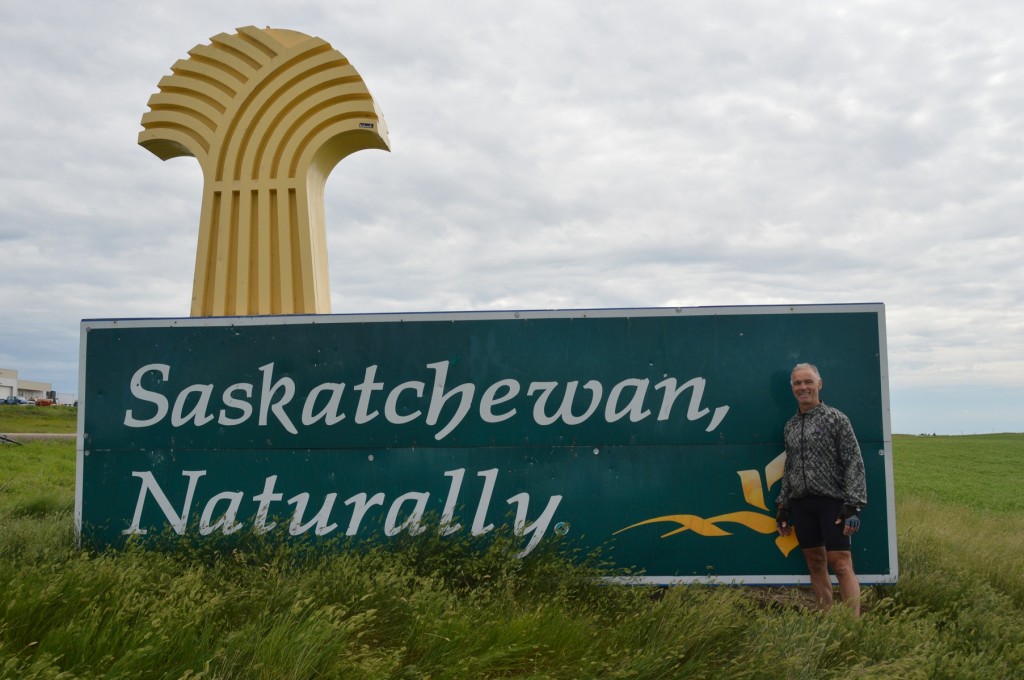 pictured above:  Dan at right of six co-tourers;  Dan alone
With two long, disinteresting days behind us, we headed for Outlook on our third day into this segment.  In '09, we had a beautiful, sunny day with the "wind gods" in our favour.  Today, it was much the same.  Sun and tailwinds lifted our spirits immensely.  In no time, several riders were at the Rosetown DQ to open the store and further augment our spirits, and energy level.  We made our way quickly from there to the Outlook municipal campground for this night of 06 July.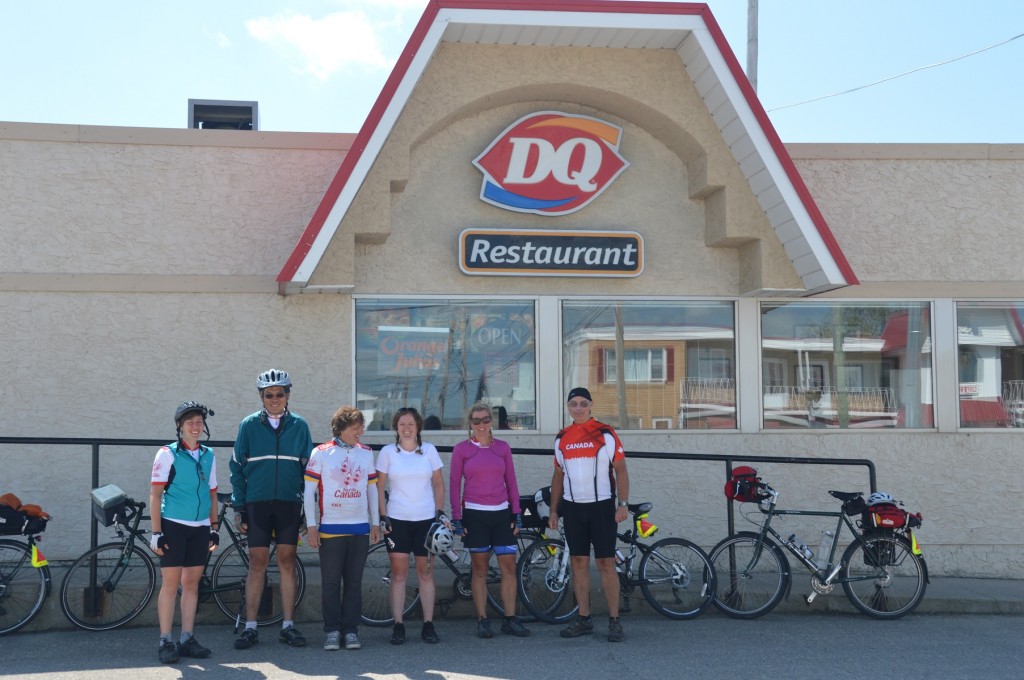 pictured above:  Myra, Fred, Bill, Louise, Becky, and Greg with DQ smiles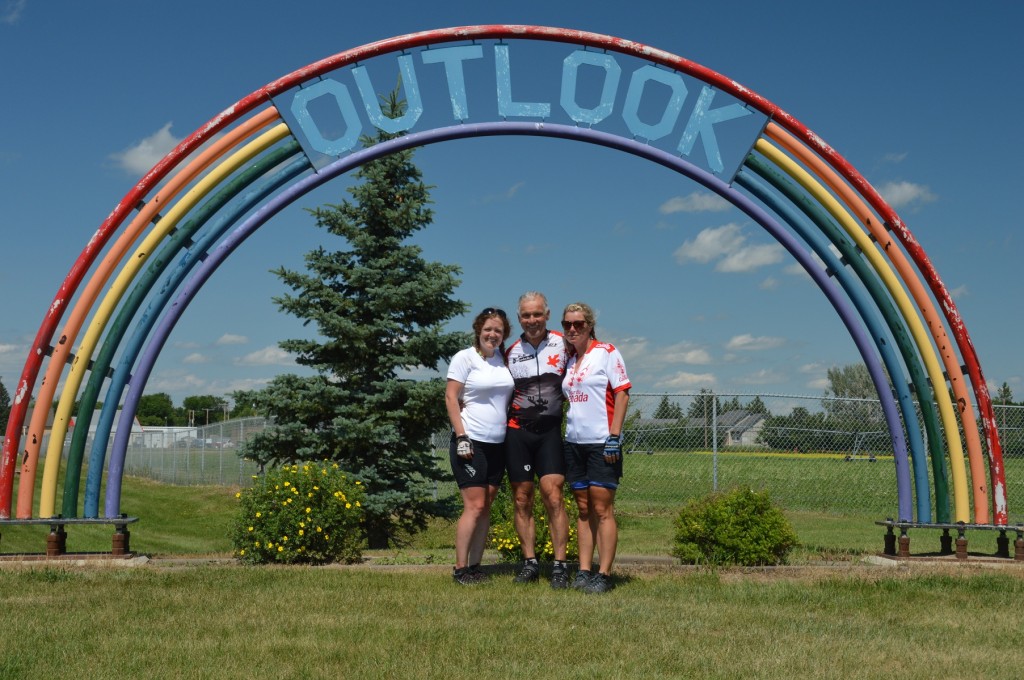 pictured above:  Dan with Louise and Becky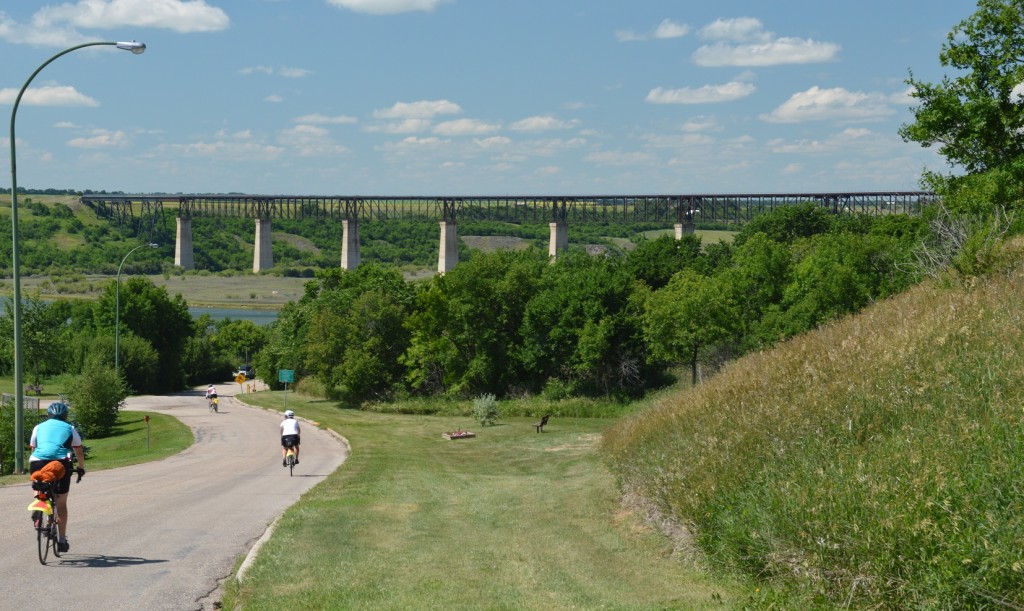 pictured above:  riders entering campground in Outlook;  bridge, 3000′ longest in Canada, in background now part of rail trail
Kenaston, our first stop of the day from Outlook, brags that they are the "blizzard capital" of Canada.  We enjoyed a break there including a group photo.  Leaving Kenaston, we left the two-lane country roads of the past week in favour of four lanes, which would eventually lead us to Regina.  Our concern about poor shoulders was quickly forgotten since Saskatchewan has maintained them well in the past few years.  Short stops in the small, really small, towns of Davidson and Craik delayed our arrival at Craik Regional Campground for the night.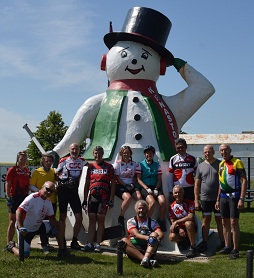 pictured above:  group posing in Kenaston, "Blizzard Capital of Canada"
Everybody was anxious to leave on the day's ride 08 July.  We were headed for Regina and a day of rest.  The entire trip was along the four-lane highway, the only blip of the day being the Lumsden Hill.  There was no cause for concern since our days in the Rockies had prepared our legs.
Once in Regina, our bikes were steered by a familiar sign, the DQ.  No one in the group resisted.  Then, it was off to Dutch's Cycle Shop.  The rear derailleur on my Bertrand bike was original equipment in '96 and was showing its wear from many miles.  Fred, at my favourite bike shop, Muskoka Bicycle Pro Shop, had arranged for me to pick up a new one.  To my surprise, there was a bike attached to the derailleur.  Fred, at Dutch's Cycle Shop, fitted me to the new bike well, and it has worked flawlessly since.
picturedabove:  new derailleur (left) with bike attached (right)
Again, rest day was helpful in catching up, for Joyce, but not before we had a group breakfast at the convenient Perkins Restaurant.  Good food and good company!   While Joyce busied herself with laundry, I biked to Dutch's Cycle where I picked up my new derailleur with bike attached.  Dutch had measured and fitted the "cockpit" so that there'd be minimal adjustment for me to the new bike.  Also, I swapped accessories.  With those chores sandwiched between meals, little on the blog was accomplished.  The first day of the Regina to Kenora segment would be long.  Time for bed!
Segment 4  -  Drumheller, Alberta to Regina, Saskatchewan
| | | | | | | |
| --- | --- | --- | --- | --- | --- | --- |
| Location  /  Date | Time camp to camp | Time on bike | Max. speed | Avg. speed | Distance | Trip to date |
| Youngstown, Ab / 05 July | 8:16 | 6:28 | 41.2 | 21.7 | 140.7 | 1322.5 |
| Kindersley, Sk / 06 July | 9:10 | 6:46 | 53.2 | 22.6 | 153.2 | 1475.1 |
| Outlook, Sk / 07 July | 6:47 | 5:31 | 50.1 | 28.5 | 157.1 | 1632.8 |
| Craik,Sk / 08 July | 7:47 | | | |  125.9 |  1758.7 |
| Regina, Sk / 09 July | 8:45 | | | |  129.7 |  1888.4 |