Segment 6  -  Kenora to Thunder Bay
The warm, dry bed was tough to leave.  Our accommodations for the last two nights at the Comfort Inn rested us well.  After grabbing lunch and daily needs from the campsite, we departed Kenora.  Rain had started.  And, not far into the ride, Joyce experienced a flat, her second so far.  Fortunately, the tire held after I pumped it up.  On we went.  About 10:10 am., with a compliment of riders already there, we patronized the remote Willard Lake Motel Resort.  The resort, staffed only by the owner, had seen better days, but the coffee and toast that Joyce and I enjoyed was timely and welcomed.  Two other stops during the day slowed our progress, first at an isolated motel's picnic table, then at a store in Vermillion Bay where an ice cream bar went down nicely.  From there, a group of seven rode past farmers' fields into camp at Springwater Campground.  The campground has seen better days, too, with the facilities in dire need of attention.  The group made do.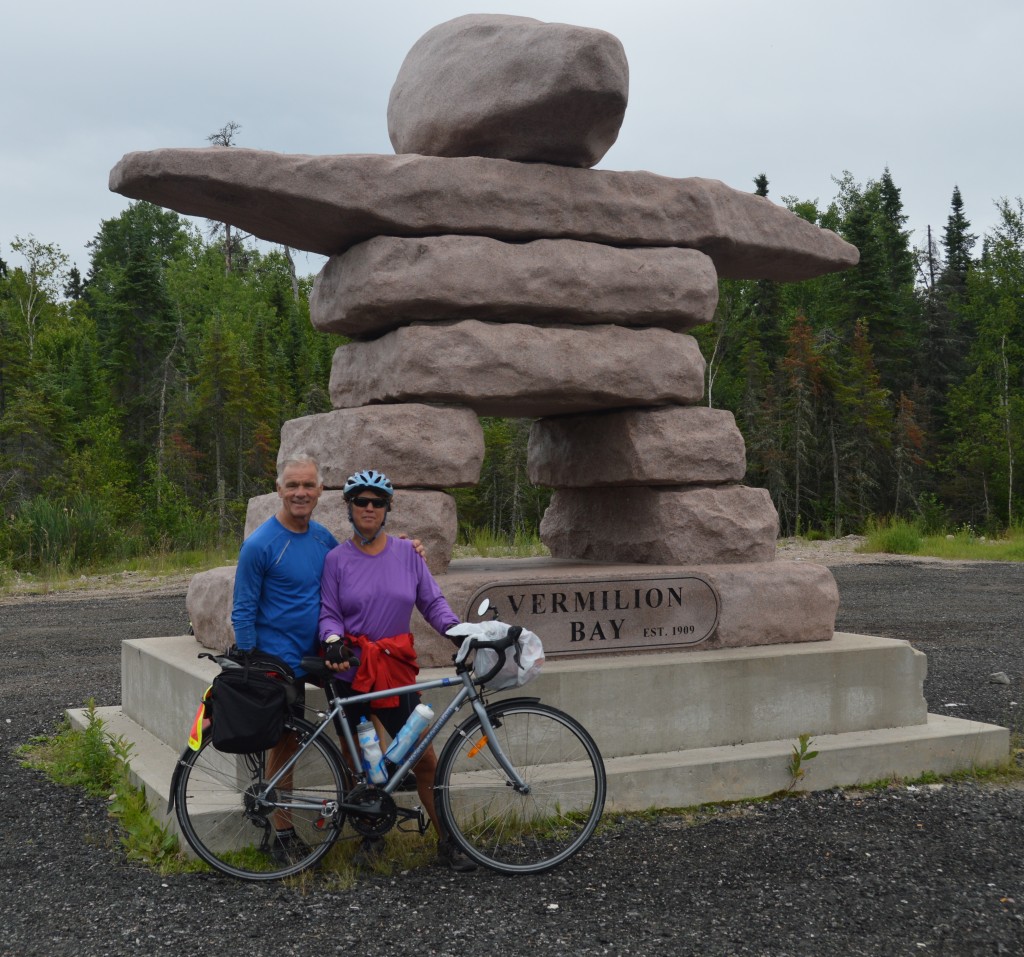 That night about 8:40 pm., as usual, we were in bed and asleep in our Eureka Kananaskis 4 tent, worry free.  About 12:40 am., I awakened to close the tent flap due to rain.  No sooner had I reclined again when powerful winds upended the tent.  Joyce awakened quickly.  The two of us had difficulty holding down the tent.  The fly had come off and the rain drenched us for ten minutes.  Lightning and thunder were too close.  Once the storm had abated, I got out to see the tent badly damaged.   I rendered it as sleepable as possible.  Even with our thermarests floating in a quarter inch of water, Joyce and I huddled together to enjoy another four hours of sleep.
Exiting the tent at 5:20 that morning, it was obvious that we weren't the only ones to have been wrecked.  Although ours was worst, other tents had sustained damaged.  A thirty-foot tree about ten metres downwind had been blown over.  Hydro was out.  Eric, a fellow rider, commented, "Now I'm convinced I shouldn't sleep naked!".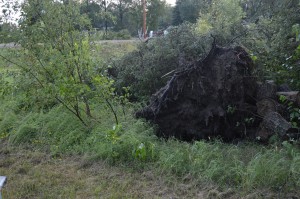 So, what now?  With no tent, we had no accommodations for the remaining three nights into Thunder Bay, where, during a scheduled rest day, we'd enjoy two nights in a Lakehead U. residence.  John Kennedy, a retired O.P.P. officer living in Dryden, whom we'd met the night before, was curious and came to the campground to see how the group had fared.  Generously, John offered to drive Joyce and me into Thunder Bay, four hundred kilometres distant, where we'd spend three days and shop for a new tent.
About 3:00 pm., 19 July, John delivered us to Lakehead U. residence.  Reluctantly, we bid farewell to a generous, ex-colleague who returned to Dryden immediately.  The highlights of the next three days included enjoying the residences' long, hot showers and ample food in the cafeteria, having a great meal at the Keg, and, of course, purchasing a new tent, a Marmot Limelight 3 (3-person, 3-season).
When the other riders arrived in Thunder Bay Sunday, 21 July for our scheduled rest day, a supper of lasagna, salad, and garlic bread, which we'd prepared, was ready for the tired, hungry, appreciative riders.  The meal was a good beginning to our two-night stay in Thunder Bay.
Segment 6  -  Kenora to Thunder Bay
| | | | | | | |
| --- | --- | --- | --- | --- | --- | --- |
| Location  /  Date | Time camp to camp | Time on bike | Max. speed | Avg. speed | Distance | Trip to date |
| Dryden, On | 9:18 | 6:58 | 48.1 | 20.2 | 140.9 | 2933.2 |
| Taylor Cove | missed |   |   |   |   |   |
| Quetico Park | missed |   |   |   |   |   |
| Thunder Bay | missed |   |   |   |   | 2933.2 |