Strong, gusty winds and cool temperatures greeted us as we left the comfortable confines of Lakehead U. residence.  Our pace to begin was slow since Joyce and I had just finished four, forced days of rest other than for a casual jaunt about Thunder Bay.  Our cooking crew of Bill, Joyce, Mike, Rob and I pedalled together making our first stop at High Park.  This perch gives you an excellent view of Thunder Bay, Lake Superior, and, the "Sleeping Giant".  We continued on to a stirring, inspirational monument on Highway #17, that of Terry Fox, a true national hero.  Naturally, photographs were in order, and, once done, we continued on.
The recently opened, 4-lane section of #17 adjacent to the monument necessitated some creative cycling until we could access the parallel, secondary road, which would eventually return us to the 2-lane #17 further east.  The area was typical Northern Ontario, bush, little civilization, and a hilly, serpentine road following the terrain.  We passed, unknowingly, the area of my 2009 mishap, and once bustling businesses, now closed. 
Harvey's General Store was our next stop of significance where we bought a drink and took a break.  Quite the commotion was occurring simultaneously.  An ambulance and police car had scurried past, lights flashing.  An air ambulance wasn't far behind.  Eight of us learned that the highway east of us was closed, a serious accident involving two cyclists.  Our hearts sank!  Our group headed eastbound, hoping for the best, fearing the worst.
After an hour's cycling and having passed kilometers of stopped vehicles, we came to the accident scene.  Adam gave us news that we had dreaded.  Two fellow cyclists, Irene and Bob Booth were dead.  A pickup truck had hit them.  The accident is still under investigation.
In 2009, Bob Booth was a co-rider who finished the tour that year.  He was one of two co-riders who, compassionately, visited Joyce and me in Nipigon Hospital after my mishap.  Bob answered a May 2013 e-mail which I'd sent out to the 2009 riders that Joyce and I were "on the road again" for this year's tour.  We were delighted when Bob informed us that he was doing the Tour du Canada again, this time with his wife, Irene.  Irene was a charming, affable individual who increased our delight.  Irene and Joyce became good friends.
ViCARS  and the Town of Nipigon sprung into action and provided us with meals and a roof over our heads in the community centre, respectively, that night, Tuesday, 23 July.  Bud Jorgenson, tour operator, attended.  Nipigon volunteer residents provided a good breakfast the following morning.   The group huddled together, grieved, and continued the Tour in Bob's and Irene's memory.  May they rest in peace, together!
Some riders opted to be shuttled to Terrace Bay, our next campsite.  Others chose to ride part way.  Myra, Louise, Bill, Mike, Joyce and I, joined by a few others during the day, decided to ride the entire distance.  Much of our day's ride was tough over rough pavement prepared for resurfacing.  Lunching at a lookout provided great scenery for a mid-day respite.  Mid-afternoon, we joined others in Rossport at the Serendipity Restaurant for soup and blueberry shortcake.  Somewhat expensive, the food was delicious, the break welcomed.  What began as a cool, cloudy day improved as sun and warmer temperatures accompanied us into camp located at the rear of the town public school.  Good shower facilities at the neighbouring community centre made for a good, campsite combination.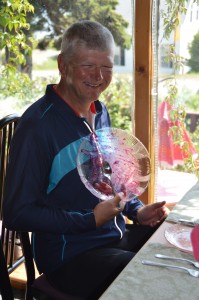 During the night, rain began and was intermittent when we broke camp.  Joyce's rear tire finally would not hold air due to a puncture by a piece of wire not much bigger than a hair.  Michel helped us to fix the flat.  Then, off we went . . . into the rain.  Cycling was steady with few options or reasons for stopping.  Marathon was our best bet, but we were disappointed since we'd have to detour four kilometres into town . . . into the rain, downhill.  We three, Joyce, Michel and I, used the visitor's centre to warm up and enjoy a complimentary coffee.  Michel made arrangements for us to join him in warm, dry accommodations at Gloria's Motel & Restaurant near White Lake.  The owners were accommodating driving Joyce and Michel to the campground for clean, dry clothes.  The restaurant and laundry facilities served us well.
After a great night's sleep, the day began with a large breakfast in the restaurant.  I noticed looking out the window that the thermometer was registering 10*C.  The flag was out full in the easterly wind.  The rain was falling hard.  After yesterday's rain, how could there be anything left?  Discouraging!  Reluctantly, we departed in the driving rain becoming well drenched within our first kilometre.  A couple hours into the ride, a dozen donuts and coffee at Robins in White River lifted our spirits and blood glucose.  Several others had the same idea, and our donuts disappeared.  The rain stopped prior to continuing our ride eastward.  But, as we entered Wawa, the rain resumed necessitating a stop at the local Tim Horton's for warmth and sustenance.  Only for a short time over the next forty kilometres into camp did the rain stop.  It was a damp evening as we set up camp and ate.  It was two hours past our normal time of about 8:30 to retire when we finally got to bed.
On Saturday, 27 July, we awakened to rain, again.  Thankfully, it stopped in order for us to break camp.  Our stops for the day included Agawa Bay lookout and the Lake Superior visitor's centre where we had a coffee, the old, stand-by, PBJ sandwich, and lube . . . for the chains, that is.  By now, the day was looking brighter.  Although we had left Rabbit Blanket Campground at 8:35 am., relatively late, we arrived in Pancake Bay Campground in a reasonable time at 5:00 pm.  Spirits were high.  The sun was shining.   Everybody had their camping gear drying in any patch of sunlight which could be found.  Our cook crew was on duty for supper and tomorrow's breakfast.  Our fellow riders were pleased with our supper preparation of pork chops, mashed potatoes, veggies, and our impromptu attempt for applesauce.  Fruit bowl capped the meal.
Our efforts at drying out were somewhat in vain.  Rain was falling, again, when we arose next morning.  Our mileage for the day was a short 87.8k, so we left the tent up in the hopes of it drying while we tended to preparing breakfast.  Normally, breakfast consists of dry cereal, porridge, and yogurt.  Pancakes were also on the menu this morning. 
We left camp about 9:20 am.  At 9:21 am., a few, pedal revolutions into the ride, Joyce stopped at the gift shop just down the road.  There was an ice cream counter, but Bill, Mike, and I resisted.  Good choice since two hours along, we stopped at the Chippewa Restaurant to indulge in a second breakfast of bacon and eggs.  We were preparing for "one mile hill" just north of the Soo.  On route, many locals warned us of the climb and commended us for our ambition.  The hill was actually 2.7k.  Having just completed riding through Northern Ontario, it was but a minor irritation.  A banana split at the Dairy Queen as we entered the Soo was a just reward, which we couldn't resist when our bikes turned into the lot.  When we arrived in camp about 4:40 pm., everybody was quick to unpack their camping gear.  By now, it was windy with sun and cloud, great conditions for drying.  A terrific, spaghetti dinner ended this segment and the day on the eve of our next rest day.
Segment 7  -  Thunder Bay to Sault Ste. Marie
| | | | | | | |
| --- | --- | --- | --- | --- | --- | --- |
| Location  /  Date | Time camp to camp | Time on bike | Max. speed | Avg. speed | Distance | Trip to date (km.) |
| Nipigon | 12:30 | 7:09 | 53.4 | 18.0 | 127.5 | 3060.7 |
| Terrace Bay | 8:03 | 5:27 | 50.0 | 19.7 | 107.5 | 3168.2 |
| White Lake | 9:22 | 6:48 | 48.9 | 19.2 | 130.4 | 3298.6 |
| Rabbit Blanket | 10:50 | 8:24 | 50.7 | 19.5 | 163.7 | 3462.3 |
| Pancake Bay | 8:25 | 6:01 | 53.0 | 19.7 | 119.7 | 3582.0 |
| Sault Ste. Marie | 8:00 | 4:34 | 41.0 | 19.2 | 87.7 | 3669.7 |